1 Meatball Recipe 3 Ways -Blue Cheese Stuff, Classic or Buffalo Wings Flavor… what could be better than this recipe. It is saving you so much time yet you get this super delicious appetizer. This meatballs are a crowd pleaser for the game day party you are planning. Dive in and let's get cooking.
I use this meatball recipe as added meat in my pasta and most of the time, we just eat these meatballs as it is -my personal favorite, by the way. Then, we got an Frank's Hot Sauce and we coat these meatballs with it. When I had some Blue Cheese left over from the  Buffalo Chicken Bites post,  these meatballs were stuffed with Blue Cheese. In spite of all these variations, these meatballs taste good. I like how these meatballs change their taste when it is filled with Blue Cheese, and I like how it bites the tongue and lips when coated with the hot sauce . Lastly, I like it most when they taste classic when eaten just like it is.
I used ground pork in the recipe because I thought it is more moist than the ground chicken. I made the chicken flavor the other day but it was dry and hard. I like this better. I am not giving up on the ground chicken flavored one, but that is for another post. I just have to perfect the recipe first.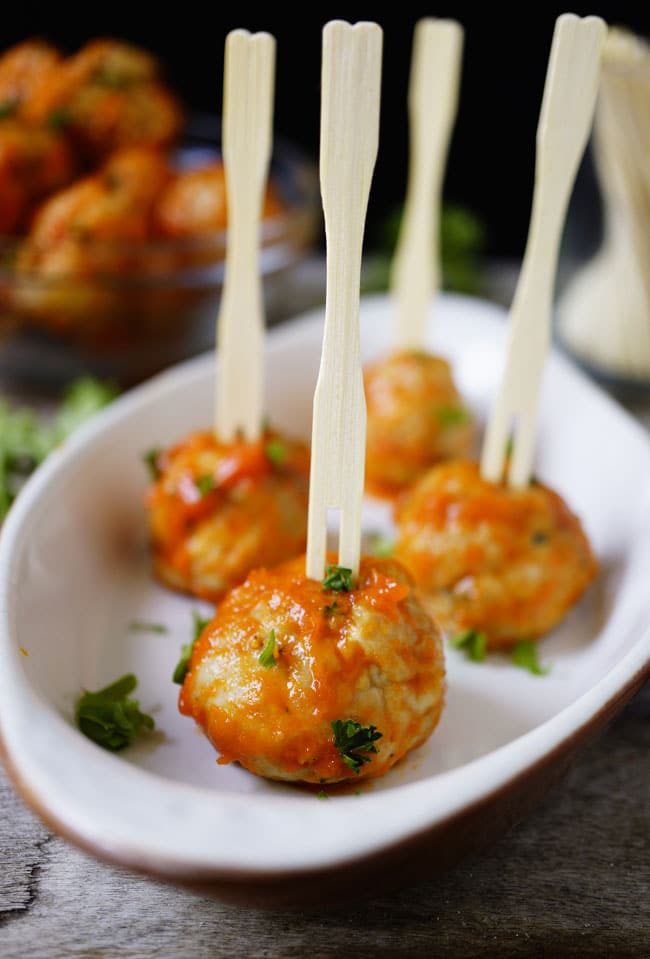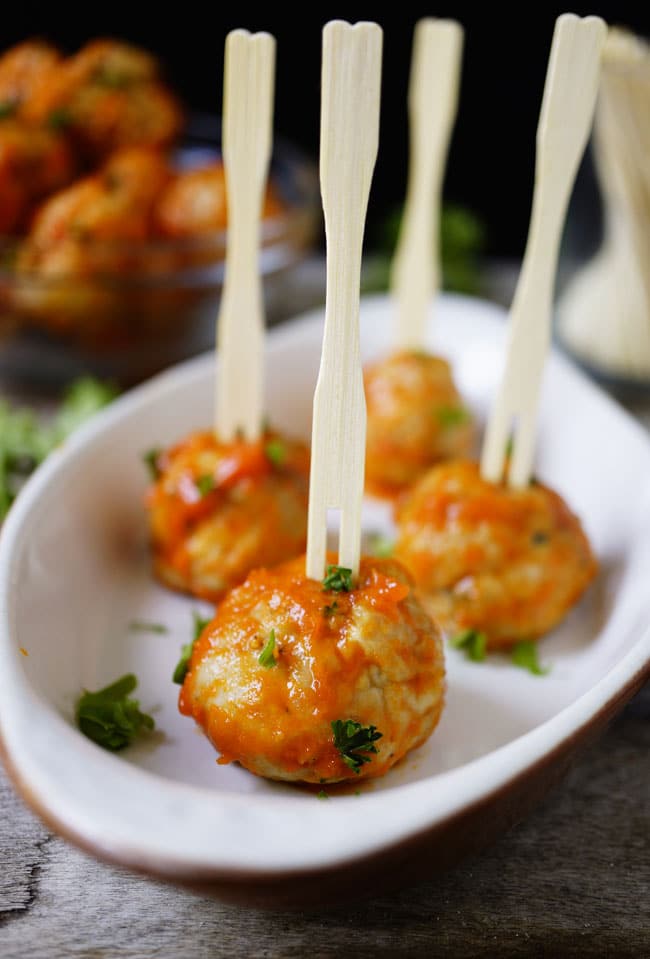 I wish I can show you the pictures of these meatballs with the Blue Cheese in it, but I lost all of it when  my computer crashed. I lost all of my pictures on that incident. I made this recipe again but I have no Blue Cheese available, so there is no picture for it. I hope my words will do justice to it. Check the General Tso's recipe and Avocado Fries if you have extra Panko Crumbs.
Follow me on Instagram, Pinterest and Facebook
FOR MORE CHEAP AND BUDGET FRIENDLY MEALS:
1 Meatball Recipe 3 Ways -Blue Cheese Stuff, Classic or Buffalo Wings Flavor
Servings: 21 meatballs • Serving Size: 3 pcs meatballs • Old Points: 5 • Points+: 5 • Calories : 187 • Fat:9.6 • Protein: 22.2 g • Carb: g • Fiber:0 g • Sugar: 0 g • Sodium: 295 mg
Print
Pin
Rate
Ingredients
1.3

lbs

ground pork

2

tsp

cornstarch

replace with Panko Bread Crumbs if you like

1/8

cup

parsley

chopped

1/2

tsp

salt

1/8

cup

cilantro

chopped

1

small onion

chopped
For Buffalo Flavor
2

cloves

garlic

crushed

4

tbsp

butter

1/2

cup

Franks Hot Sauce

for the Buffalo flavor
Instructions
Preheat oven at 350 F

Place ground pork, cornstarch, parsley,salt,cilantro, onion and parsley in a big bowl and mix them completely using your hand. Form them into ping -pong size balls and place them in a baking sheet.

Bake the meatballs for 30 minutes or until the meatballs are cooked through. You can check one meatball and see if it is cook.
FOR THE BLUE CHEESE FILLED MEATBALLS:
If you are adding a Blue Cheese in the meatballs, form the meatballs into a ball and make a well in a middle. Place in a small amount of Blue Cheese and seal it, then bake.
Buffalo Flavor:
When the meatballs are cook, place the butter in a small sauce pan and let it melt in a a low heat. Saute the garlic for 2 minutes and add in the Franks Hot Sauce and let it simmer. . Gently add the cooked meatballs and coat them with the Frank's Hot Sauce. This meal is best when serve hot.