This CHICKEN DUMPLING WITH HOMEMADE BISCUIT is a keeper. The Biscuit is no way close to any canned biscuit. The biscuit recipe is simple, and fail proof. It tried it several times and IT. HASN'T. FAILED. ME.The flaky dough is not dry and the taste is not sweet and not salty , compared to the biscuits we get in the store. This recipe is simple and you can meal prep it.
You can change the vegetables according to your liking. For this meal today, I used mixed veggies because that is what I have here in the fridge. I also skipped butter and milk, to make it less fatty.
The biscuit recipe is really close to my heart, because it is share by my landlord, who just passed away, and this is the first American meal I made when I came here in the USA 18 years ago.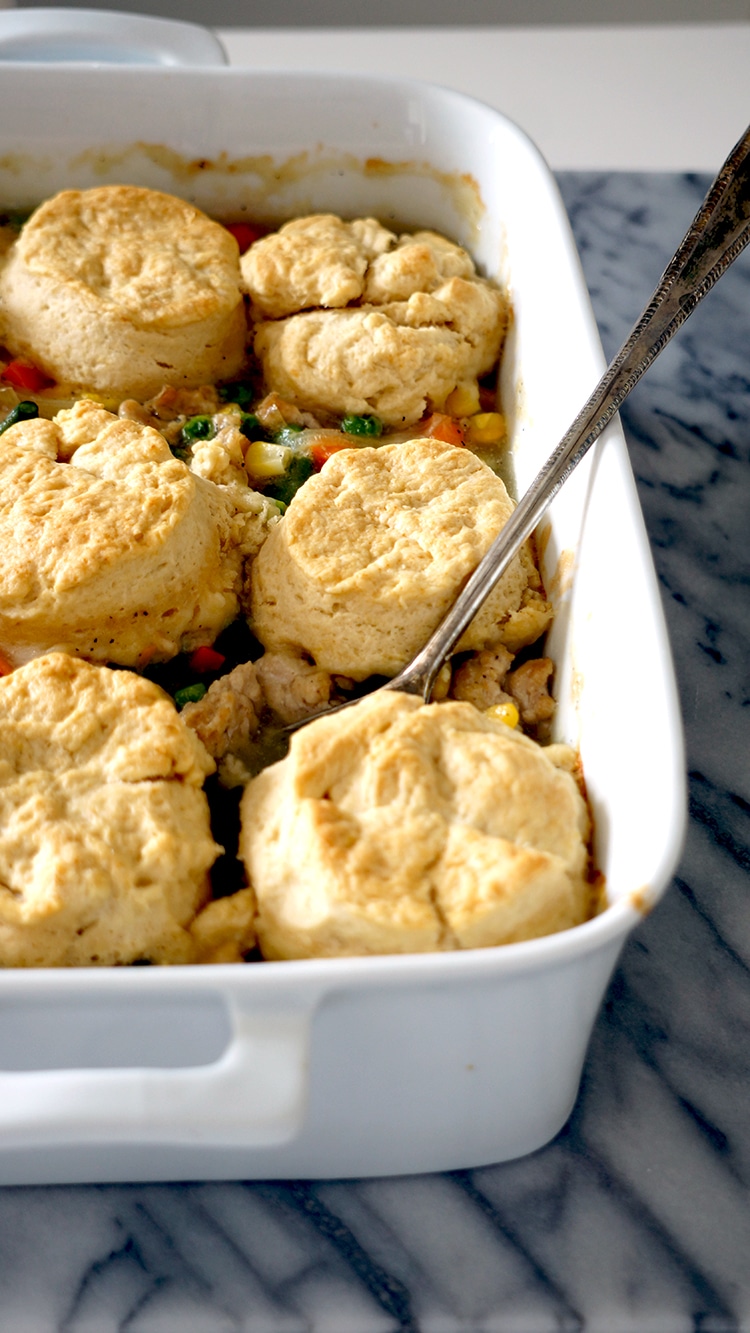 Ingredients
BISCUIT RECIPE:
2

cups

all purpose flour

4

teaspoons

baking powder

1/2

teaspoon

salt

2

teaspoons

sugar

1/2

cup

shortening

butter flavor

2/3

cup

milk
FOR THE SOUP
1

lb

ground chicken

1/2

of large onion

2

cups

frozen mixed vegetables

1

cup

chicken stock

4

tablespoons

cornstarch mixed with 1/2 cup chicken stock

slat

pepper to taste

2

tablespoons

utter or canola oil
Instructions
Using your hand or a spatula,Mix the 6 ingredient in a medium sized bowl until the you form a coarse crumb.

Transfer dough in a lightly floured flat surface and continue to mix the shortening with the flour and then form a circle about 1/2 inch thick and cut biscuit using 2 inch biscuit cutter. Form the remaining dough into round 1/2 thick dough and cut again using a biscuit cutter. Put biscuits on top of the pre made soup and bake in pre heated oven at 350 F 25 minutes.
FOR THE SOUP
Heat canola oil in a mediun sized pan and saute' onion until transparent.

Add ground chicken and cook until it changes color.

Add the stock and mix veggies let the chicken cook and veggies tender. Add chicken stock as needed.

Now pour the cornstarch mixture and let simmer for 3 more minutes or until soup is thick.

When done, pour the soup in a large baking pan and put the biscuits of top. Bake casserole in the pre-heated oven for 25 minutes.