How to make Moist Banana Cake. Guys, I would love you to make this Banana Bread, ASAP. I have made this several times already and I cannot get enough with it. It is way better than the Banana Bread I buy daily at my workplace cafe' . It is not too sweet  and it is very moist. I love this Banana Bread recipe. It is a keeper.
Last week, I took off work and I spent the whole afternoon making bread. I made this Banana Bread and I tried making the  Poppy seed bread from a magazine I bought. As usual, this Banana bread recipe did not fail me; it was a success. The family loved it too much that I made 2 more the next day. I froze the other loaf and I sliced the other loaf for our morning breakfast. I sliced and arranged about 8 pieces for my husband's colleagues and they too adore this Banana Bread.The Poppy seed however, was an epic failure. It was soggy, oily and bland. If you are following me on Instagram, you will see when I tossed it in the trash.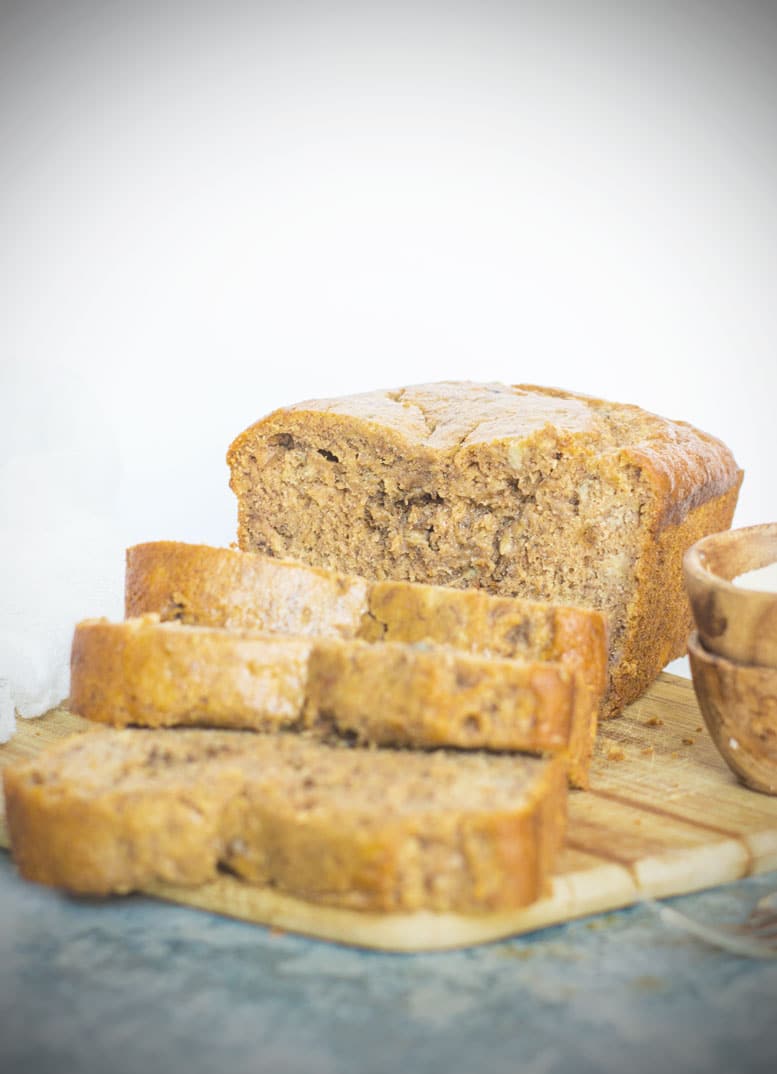 In the photos below, you will see walnuts but this is optional. In fact I love this Banana Bread without the nuts, so if you don't have nuts in your pantry, you can totally skip adding the nuts.
And in this photo, the caramel toppings is missing. Well, it was all gone before I was able to take pictures, so this is a different batch of the new Banana Bread loaf I made. Although it's good without the toppings, but having the sweetness on top just put this Banana Bread in another heavenly level… it just taste so good with the caramel on top. So I highly recommend making it.
This Banana Bread is also very freeze friendly. I just let it cool and wrap it with plastic wrap then cover it with tin foil. In fact, I have some Banana Bread sitting in my freezer right at this moment.
What I love about this Banana Bread:
Too easy to make. If you don't have electric mixer, you can use your hand.
Moist
It smells so good.
Freezer friendly.
Print
HOW TO MAKE SUPER MOIST BANANA BREAD
Ingredients
DRY INGREDIENTS:
2

cups

All-purpose flour

1

tsp

Baking soda

2

tsp

Cinnamon

1 /8

teaspoon

Nutmeg

1 /8

Salt

1

box 3.4 oz Vanilla pudding and Pie Filling
WET INGREDIENTS:
¾

cup

Light brown sugar

1

container 5.3 oz Non-fat Yogurt in Banana Cream Flavor

2

eggs

beaten

½

cup

unsalted butter

1

tsp

Vanilla extract

4

over ripe bananas

smashed
Toppings:
4-5

tablespoons

butter

melted

½

cup

Light Brown Sugar

2

teaspoons

cinnamon
Instructions
Preheat oven to 350 degrees F.

Grease a 9" loaf pan with canola oil and line with parchment paper and set aside.

In a medium sized bowl, mix in dry ingredients using a wire whisk and set aside.

In large electric mixing bowl, whisk together the butter and ¾ cup of the brown sugar until blended. Whisk in the eggs, yogurt, and vanilla until combined.

Add in the dry ingredients and mix 5-6 times until gently mix and then remove bowl from the stand mixer and fold in mashed banana using a spatula. Make sure to scrape the sides

Batter should be thick and clumpy but do not over mix since it will make your bread tough.

Spread the batter into the prepared pan.

Bake the bread for 30 minutes, then tent the bread with foil (which helps prevent the crust from burning and top + sides from cooking too quickly) very loosely. Continue baking for an additional 30 minutes.

Drizzle butter and sugar mixture on top.

Allow the bread to cool completely before cutting into slices.
FOR THE TOPPINGS:
Melt the butter in a small sauce pan.

Add in the sugar and cinnamon and continuously mix until incorporated.

Drizzle on top of the bread.