Now, before a riot starts, I want to emphasize that there are different version in cooking. It depends on a person's taste, from where they came from, what ingredients are available in their geography and even the cook's economic status. Having said that, I understand that Spaniards are very protective of their Paella cuisine. Just like Italians are protective about their Pasta and Filipinos on our Adobo, I  want to point out that this Paella version is what I learned in the Philippines.
In the Philippines we have hundreds of Lumpia version, so I totally believe that in Spain they have several Paella versions as well. So after reading this and making this recipe, please let me out alive.
Since Paella originated from Spain, I can say that their version is authentic; however some cooks there may have tweaked  their version on what ingredients they can afford, or the amount of time they have. So don't twist my neck, and I am looking at you Spaniard brothers if  in your eyes if this recipe is not what you thought as "AUTHENTIC;" because this is Paella version –  Filipino Style
WHAT TO EXPECT WITH THIS RECIPE:
After making this, you will become a rock star. People will appreciate how good this is and they will be surprised how easy it is to make. You can make it for dinner when you come home from work. Just prepare the ingredients beforehand and you are ready to get cooking.
6 TIPS TO MAKE  FILIPINO STYLE PAELLA
I made the instruction as easy to understand and I made the video also to guide you. But there are few rules we have to follow in making it:
First, you have to make Sofrito or Paella base. It is made of  olive oil (peanut oil or any oil, but I prefer we use Spanish Olive oil), garlic,salt and grind tomato, and garlic.
Second, Do not stir the rice as the starch will be released and this will completely change the taste. Let the stock evaporate to allow the flavor to go to the bottom.
Third,  Add the seafood and let it cook with the rice. ( You will see in the video when I added the sea foods)
Fourth, don't worry if the cooked rice is charred at the bottom. It is part of Paella's flare. Since Saffron is a bit expensive, you can replace it with a little bit of Tumeric. And you have to use Paella rice as it doesn't absorb the sauces. You an buy them at World Market or an organic store.
Fifth, Since we are using flat bottomed pan you have to turn the pan and direct heat to the sides to equally cook the rice. It took me more than an hour of turning and directing heat to uncooked part to have an equally cooked rice. I peeked under the sea food which part is not cook and direct the heat there. BUT DON'T EVER MIX THE PAELLA.
Sixth, I know that I said it in step four that you can use Tumeric to replace the Saffron. BUT CAN YOU NOT DO THAT? Saffron really is the star of this meal. It will give a unique flavor that I can't really explain. TO me it taste earthy but different.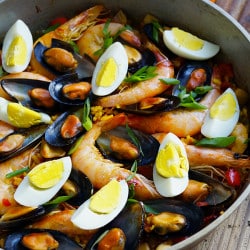 Ingredients
1/2

lb

skinless chicken thigh

small bite size so that it is fast to cook (pre cook and season with 1/2 teaspoon salt)

1

cup

Paella Rice

2 1/2

cups

chicken stock
PAELLA SAUCE
1/2

teaspoon

Smoked Paprika

2 to

matoes

( about a size of ping pong balls ) blend or finely chopped

1

small size onion

chopped

1/2

of red bell pepper

chopped

3

cloves

garlic

1/2

teaspoon

saffron

1

teaspoon

salt

1

teaspoon

pepper

1/3

up Olive Oil or use Peanut Oil

Canola oil will work too
Instructions
In a small pan, add a small amount of oil and saute' the chicken thigh until cooked through. Add 1/2 teaspoon of salt and set aside until ready to use.

Heat flat bottom pan or heat your Paella pan in a medium heat fire and add in 1/3 cup of Olive oil. When the oil is hot, add in the garlic and brown it. Add the onion and cook until transparent. Add the tomato and bell pepper. Cook until soggy. This is the Paella base. As shown in the video. Add the salt,paprika and pepper. Then add the cooked chicken thigh.

Add the rice and mix until the Paella base coat the rice.

Add the chicken stock and using a wooden ladle, distribute rice all over the pan.AFTER THIS PROCESS, DO NOT MIX RICE ANY MORE

COOKED IN MEDIUM LOW HEAT.Let mixture simmer for 3 minutes and arrange sea foods on top of the Paella. Turn heat to medium low.

NOW IT IS THE CHECKING GAME.

Check out rice under the seafood. You can see that some rice are not cook in the side part of the pan. Move the pan and direct the heat there. Then check other side and direct heat there . It took 1 hour to cook this Paella. It may be different for you, but make sure that the rice is equally cook through .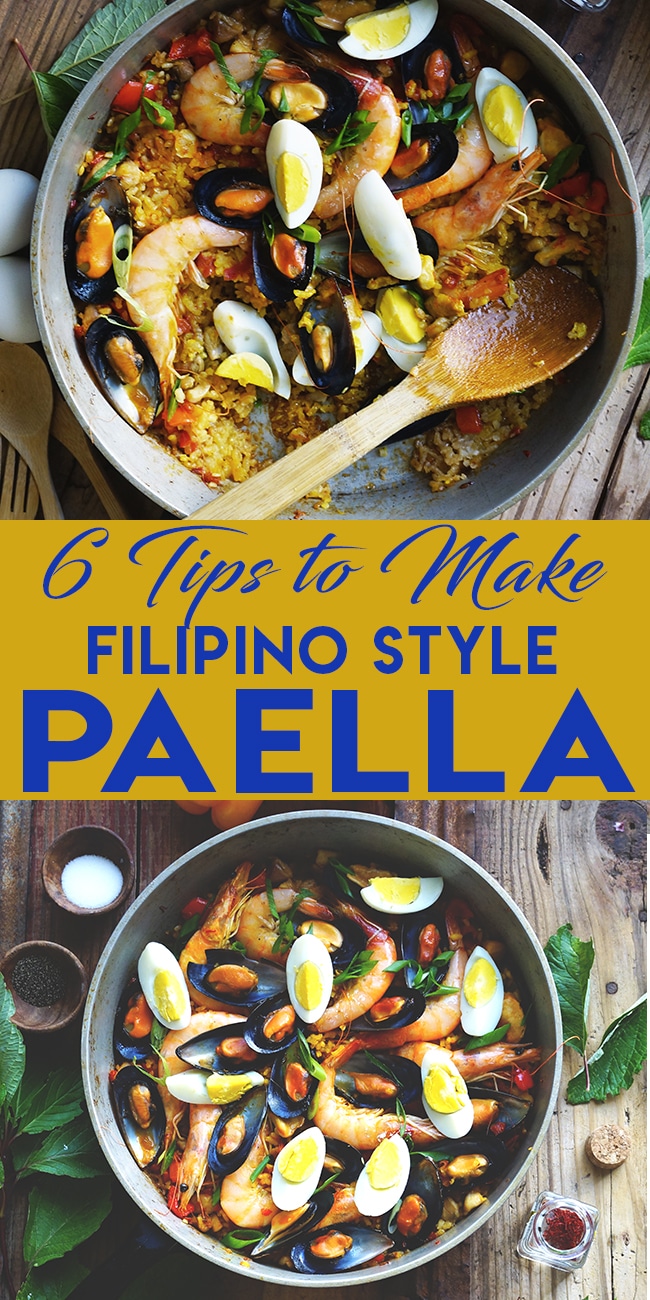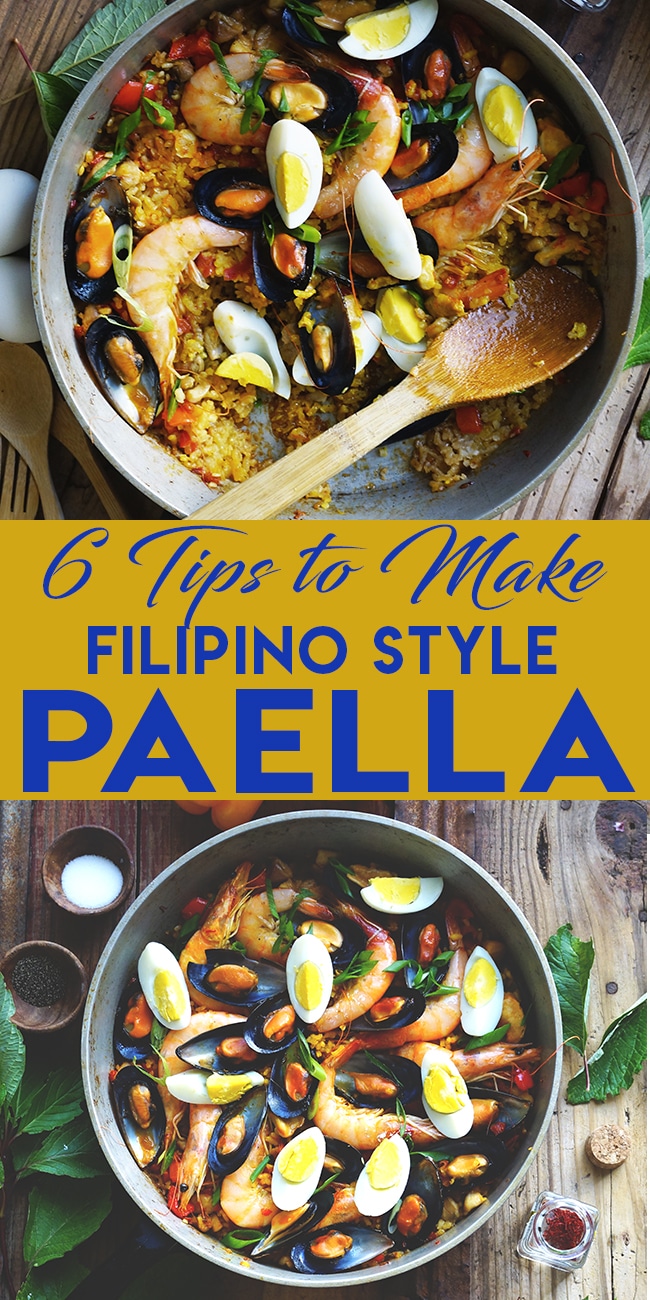 .