HOW TO TWIST PRETZELS STEP BY STEP PHOTO. An easy and clean instruction on how to shape pretzels. Follow and enjoy!


Since I am thinking of making another pretzel recipe from the left over butter we used from the Walnut pretzel post, I was inspired to post this step by step photo instruction on how to twist those pretzels. I know, some of you are experts already, so this post is for those of us who are novice in twisting pretzel acumen. Here it is folks:
1. The dough – make the dough as was instructed in Walnut pretzel post.
2. Cover the dough with a towel or a plastic and let the dough rise in a warm place. Sorry for the dirty looking towel here, but this is a clean towel. you are suppose to use a plastic wrap.  I just used the towel because I cannot find my plastic wrap.
3. Since it is winter, I do not have a warm place to put my dough, so I heat my oven at 200 F for 1 minute, tun it off then stick my dough in there for an hour.
4. The dough is now double in size.
5. Divide it into fist size. Now, you have to brush your surface with oil before you the next step so that the dough will not stick.
6. And work on stretching it into a long string. Yup, 30 inches long.
7. Work on a skinny,  pretty string by using your palms. Really strive for a pretty long string , not like this, this look ugly but no pressure here. If what you got will look like this, it is okey.
 8. Bend the dough string 
9. Form into like this …
10. To this…
11. To this …
12. Now you have the form. Dip it gently into the water and baking soda mixture. I know you work hard in shaping the pretzels, chances are, it will get ruin when  you try to dip it in the baking soda mixture. Do not fret. It is okey if the pretzel gets untangled. Just reshape it. Sometime though, I think it is better to dip the string first then shape afterwards. Whatever you decide will do. Just make sure that the water is well drained.
13. Arrange the pretzel in the pan which was lined by a parchment paper. I greased the bottom of the pan then place the parchment on top then grease the parchment with oil.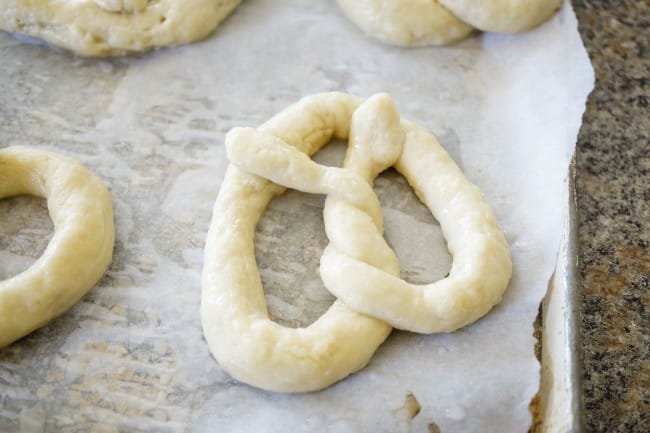 14. It is ready. Just control yourself  and enjoy this soft pretzel.