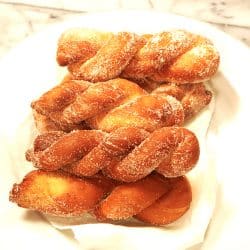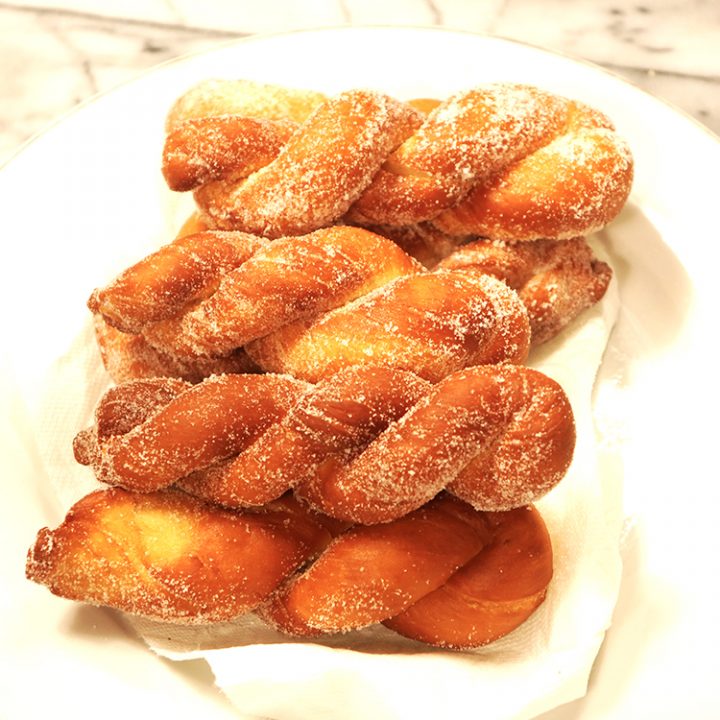 SHAKOY TWISTED DOUGHNUT
This Filipino style has been called different names in the Philippines; but in Cebu, we call it Shakoy. This is my favorite snack after school and it's sold in sidewalk stalls in my neighborhood.
3

cups

all purpose flour

2

tablespoons

butter

1

packet active yeast

2 1/4 teaspoons

3

tablespoons

white granulated sugar

1

cup

milk

room temperature ( I prefer evaporated milk)

1

large egg

room temp

1/2

teaspoon

salt

canola oil for frying

2

tablespoon

granulated sugar inside a brown paper bag for coating
Put flour in a large size bowl and mix using a wire whisk  and set aside.

In medium heat, melt the butter in a small sauce pan. When butter is melted, add milk then remove from heat. Add egg , sugar and salt and mix until dissolve. and mix completely then add the yeast. Let yeast sit for 5 minutes. You will see bubbles.

Pour mixture into the flour and mix with a wooden spoon or a spatula. Mix and then use your hand until smooth and form into a round ball and cover with a plastic wrap. Let dough sit in a warm place for an hour until it double its size.

After an hour, punch the dough to deflate air and knead until smooth. Cover again and let it sit again in a warm place for another 30 minutes.
ROLLING THE TWISTED DOUGHNUTS:
Uncover the dough and knead for a few minutes and form into a ball. Divide the ball into 2 then divide equally into 16 pieces.

Take a piece of dough and starting in the middle, roll the dough into a string form. When rolling dough, roll the other upward and the other hand downward to form a tension. Pick up dough and twist. MAKE SURE TO SEAL THE END, SO THAT DOUGH WILL NOT UNTANGLE WHEN FRYING.

Let the twisted dough expand for another 20 minutes and roll to the other side and let sit for another 10 minutes.
FRYING THE TWISTED DOUGHNUTS:
Heat a large amount of oil in a deep skillet setting it 350 F and lower heat to medium, to get that crisp outside and soft inside shakoy. Fry doughnut until golden brown each side.

Put about 3-4 doughnuts as they expand.

Strain the cook doughnut and put them in a brown paper with sugar and shake so that doughnuts is coated with sugar. Do this while doughnuts are still hot.
FREEZING TWISTED DOUGHNUT:
Please watch this video for step by step instruction :
Shakoy Video