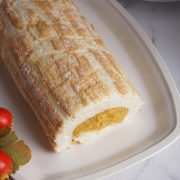 Print
BRAZO DE MERCEDES RECIPE
BRAZO DE MERCEDES RECIPE. NO FAIL AND EASY RECIPE INSTRUCTION FOR SURE SUCCESS. Read the tips and watch the video to guide you. If this is your first making it, be ready to celebrate.
CUSTARD FILLING
10

egg yolks

1

CAN 14 OZ condensed milk

3

tablespoons

butter

1

teaspoon

vanilla extract
MERINGUE:
10

egg whites

1

teaspoon

cream of tartar

1

cup

sugar
Prepare pan by generously greasing all sides of the pan 10 x 12 inch pan with oil and cover it with wax paper, then grease the wax paper. You can brush the oil or spray it. Set aside.

In a medium sized sauce pan, mix egg yolks, condensed milk and cook in a low heat. Scrape the side from side to side. Cook and stirring constantly and add the butter 1 tablespoon at a time until sticky.

Remove the filling from the heat and let cool.
MERINGUE
Separate the egg yolks from white. Use a small bowl when separating them so that you will not risk throwing the whole batch of egg white just in case it's tainted with egg yolk.

Using electric mixer, add cream of tartar and mix until frothy. Add the vanilla extract and mix.Add the sugar 1/4 at a time mix until stiff peaks.

Spread mixture in the prepared pan and level with a spatula. Create pattern using a fork or icing zigzag pattern.

Bake in a pre- heated 350 F oven for 20 minutes, or until top is brown.It puffs up when baked but deflates a little once out of the oven.

Sprinkle top with powdered sugar and cover with parchment paper and flip meringue and fill the middle with custard.

Roll meringue and roll tightly like a jelly roll. Chill before serving.