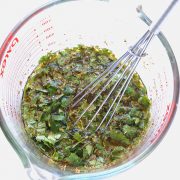 Print
BEST CARNE ASADA MARINADE
This CARNE ASADA MARINADE might be the only Carne Asada you need. It has all of the ingredients you need to make you meat tasty, tangy and just out of this world delicious.
In a small sized bowl add in salt, pepper, chili powder, dried oregano, minced garlic, cilantro, orange juice and lime juice. Mix until incorporated.

Transfer in a small container and cover. Store in the fridge for 3 days.