KOREAN BEEF BOWL MEAL PREP WITH BROWN RICE. This meal right here is easy to make and it is really good too. You can prepare it ahead of time for meal prepping or, just gorge everything in one meal.
The beef was marinated overnight with vinegar, soy sauce ,sesame oil,salt and pepper and I added sugar in it too, and I just simply fry it until it changes its color change. The beef itself needs to be sliced very thinly.
ENJOY this easy to make meal, and I will see you next week for another post.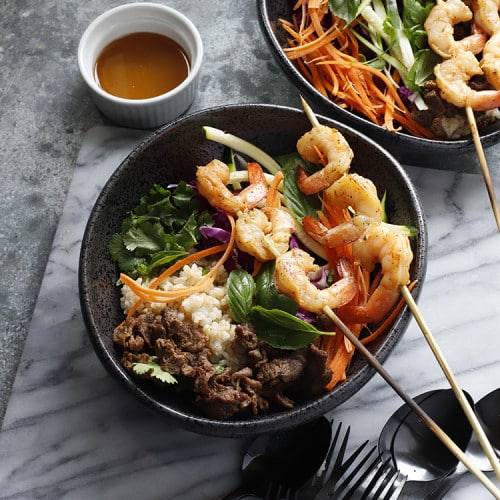 Ingredients
FOR THE BEEF MARINADE:
1.81

lbs

beef sliced in Carne Picade Style

our store has slice it this way already,meaning really thinly slice. You can ask your butcher to do this

1/8

cup

vinegar

1/3

cup

soy sauce

1/4

cup

roasted sesame oil

1

teaspoon

pepper

1

teaspoon

salt

1

teaspoon

brown sugar
FOR THE VEGGIES:
1/2

lb

red cabbage

thinly sliced

5

pieces

carrots

julienne

2

Zucchini

julienne

lots of basil and cilantro
FOR THE KOREAN BEEF BOWL SAUCE:
1/3

cup

fish sauce

1/4

cup

water

juice of 1/2 lemon

pepper
Instructions
Put the beef in a deep bowl and make the marinade.

NOTE FOR THE MARINADE, season it according to your liking, but this is what I used. Adjust the mixture in a small bowl and if it good enough for you, pour it into the beef and mix. Marinate meat overnight.

WHEN MEAT IS ready, heat 1 tablespoon, or more, cooking oil and lightly brown the beef in all sides. This process doesn't take long to cook since the beef is very thinly sliced. When ready, set aside.
FOR THE SAUCE:
Mix all of the ingredients and adjust and season to your liking. Our mixture into your bowl.
TO ASSEMBLE:
Put brown rice as first layer, then add the cabbage, carrot,zucchini and beef. Garnish with lots of cilantro and basil. Pour a tablespoon, or more and mix the KOREAN BEEF BOWL .ENJOY!