Okinawan Sweet Potato cooked in an instant pot using the air fryer lid! Very sweet and plump. It takes very little effort to make this.
OKINAWAN SWEET POTATO INSTANT POT
When my kids slack in school, they get a lecture on how simple their lives here in the USA are compared to the lives we had at home in the Philippines. And planting sweet potatoes came upon one of those times. I will give them a narrative on how we plant our sweet potatoes in our gardening elective classes. We planted cassava, bok choy, and other veggies, and how great my gardening teacher was. My son is interested in listening to my stories. Although he doesn't eat this, he gets a kick with those stories.
What is Okinawan sweet potato?
Okinawan sweet potatoes are different from sweet potatoes here in the USA which is called Yam. It has light brown skin and the flesh is purple and it's more compact and sweet compared to yam which to me is very fibrous and soggy. The stores here in my town don't sell them, but sometimes, these purple sweet potatoes are carried in whole foods or natural groceries. And when that happens, I'll do a happy dance.
Difference between Sweet Potatoes and Yam
Yams are color orange than purple and the flesh is mushy and is not as sweet. In other words, my Filipino tastebuds don't appreciate Yam's taste at all, so I opt to wait until I am able to get these purple sweet potatoes in the Asian store.
WHAT BRAND OF INSTANT POT DO I USE
I want to emphasize each instant pot is different, and some settings may not be on the instant pot you got. In my case, I am using Instant Pot Duo Crisp 11-in-1 Electric Pressure Cooker with Air Fryer Lid, 8 Quart.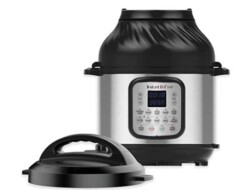 How to Cook it in the Air Fryer
Cooking these potatoes is really easy. Especially when it's done in the Instant Pot.
Place 3 pieces of Okinawan Sweet Potato in the Air fryer and seal.

Set timer to 45 minutes at 400 F temperature. I did not preheat the setting.

Check and if a chopstick or an easily slips through the middle, it's cook
Is Ube the same as an Okinawan sweet potato?
No. Ube and Okinawan sweet potato are different. Ube has a rough, bark line skin while Okinawan sweet potato had smooth brown skin. In terms of taste, Ube is tasteless, while the Okinawan sweet potato is sweet. Ube has a smooth and sticky texture while the latter has fibrous flesh.
For More Sweet Potato Recipe:
Okinawan Sweet Potato
Cooked in an instant pot using the air fryer lid! Very sweet and plump. It takes very little effort to make this.
Print
Pin
Rate
Equipment
Instant Pot Duo Crisp with Air fryer
Ingredients
3

pieces

Okinawan Sweet Potato
Instructions
Wash the sweet potato to remove gunks or soil.

Set timer to 20 minutes at 400 F temperature. I did not preheat the setting.

Place 3 pieces of Okinawan Sweet Potato in the Air fryer broil /dehydrating tray covered with air fryer lid.

Check and if a chopstick or an easily slips through the middle, it's cook