This Purple Sweet Potato (Kamote Pie) is an easy alternative for our ever elusive Ube Pie. This Kamote Pie taste just similar like Ube Pie -I promise.
Hi, guys! It's another week, so we have another recipe in the blog. Today, I will be sharing with you this Kamote Pie which can be a substitute for our ever elusive Ube pie. If you don't live in the Philippines, having a fresh Ube is hard to get ahold to. So for us, OFW, we can replace fresh Ube with the frozen ones; but frozen Ube just don't cut it in terms of flavors. So I in this recipe, I replaced the Ube with Kamote hoping that this will be a delicious alternative for the Ube pie. I tell you though, that it does taste like Ube at least what  my family thought too.
This is an easy Kamote Pie to make for a function you are going to. And if you feel up to it, you can make this Sweet Potato Pie recipe I posted last week too.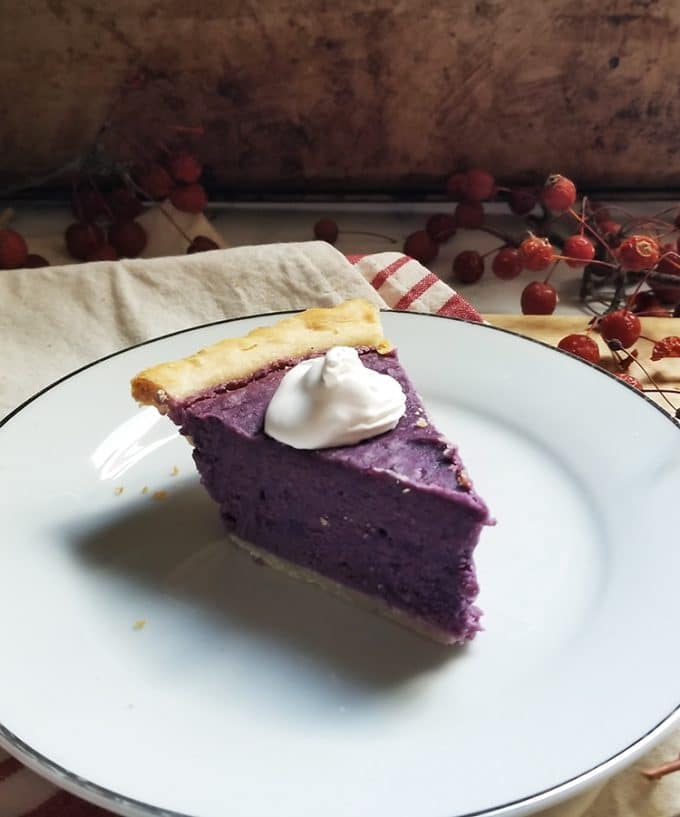 HOW DOES KAMOTE PIE TASTE LIKE:
Kamote Pie taste earthy and it has more dense texture. I used coconut milk on this pie to emphasize the earthy flavor we usually remember when we eat Ube pie.
When Do I know the Kamote Pie is Ready?
It's hard to tell when the Kamote Pie is ready, but I use the toothpick test and smell test. You can smell the pie in about 40 to 45 minutes of baking and that's the time you that I do the toothpick test. Just poke the pie in the middle and when it comes out clean, it is ready.
KAMOTE PIE INGREDIENTS:
1 pound purple sweet potato
coconut milk
cloves
eggs
spices (cloves,cinnamon,
Ingredients
1

lb

Purple Sweet Potato

1/3

cup

granulated sugar

1/2

cup

coconut milk

2

eggs

1/2

teaspoon

cloves

1/2

teaspoon

cinnamon

1/2

teaspoon

nutmeg

1/2

cup

butter

melted
Instructions
Poke sweet potato with fork and wrap with foil.

Bake in a preheated 350 F  oven for an hour, or until it is soft. Check tenderness with fork. When the fork slides into the potato easily, it is ready.

Peel the cooked baked potatoes put in a large bowl. Using a masher, mash potato until very fine.

Add the rest of the ingredients and mix until ingredients are well incorporated.

Transfer mixture in a ready made thawed pie  crust and bake for 50 minutes. Start checking when you can smell the pie, at about 40-45 minutes using the toothpick test.