This Oven Baked Ground Turkey and Egg Omelet is what I am needing right now… it has zero carbs, high in protein, load of bell pepper and onion and it is abundant in good taste. Now your breakfast is covered.
It is Saturday morning and I am actually have time to spare today. I am off for two days and I am excited to just spend time with the family and hopefully this time, not to spend it with worry or anxiety. You see, I have been worrying a lot about our possible move to Oregon. Worrying about the move is an understatement because this means driving for tree days,new schools for the kids and simply starting over again in a new state is not something I am excited about. It is driving me crazy… You see, my husband has been working in Oregon for a year now and we decided that the move is the best option for us this time. For a year, we have been paying for two houses,utilities and pretty much for two households so we are taking the leap of faith on this move to make our family whole again. I trust that everything will fall into place and I am putting my trust in my good God to make everything easier for me and the kids. Indeed life has been so unpredictable, it always is,but for me, being together as a whole again makes life more certain; So I am hoping and praying that the blessings of God the Father will be with us. Although everything feels uncertain right now, I believe that God will come through, which He always does. Right now,I may not connect the dot piece by piece  but it will be alright.
And in moments when there are so much pressure, this Oven Baked Ground Turkey and Egg Omelet is one of those recipes that is so easy to make. Less pressure to cook, but so great in taste. And all the time, the kids love it. Normally, this omelet should be consume to boost energy and to fill you up until dinner but, this recipe yields 8 slices that you'll have leftover for lunch,dinner and next day's breakfast.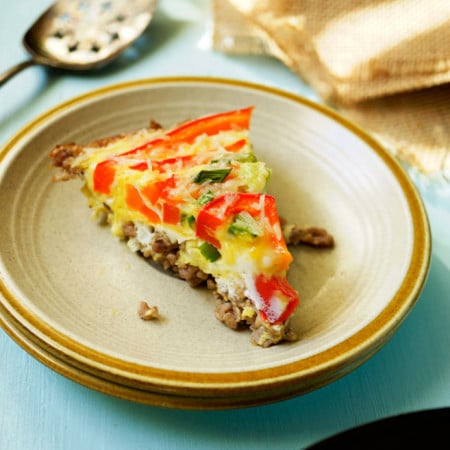 Print
Oven Baked Ground Turkey and Egg Omelet
Oven Baked Ground Turkey and Egg Omelet
Ingredients
1/2

of Red Bell Pepper

9

stems green onion

chopped

3. 5

oz

ground turkey or ground pork

5

eggs

beaten

1

tablespoons

of canola

1/2

teaspoon

salt to taste
Instructions
Preheat oven at 350 F.

Heat oil in a dutch pan pan and brown ground turkey until cook through. Turn off heat .

Prepare the egg.

In a small bowl beat eggs and add in 1/2 teaspoon of salt. Add more if needed. When done, pour over the cooked meat. Sprinkle green onion and arrange the bell pepper on top.

Bake at pre heated oven for 45 minutes.