SAPIN SAPIN RECIPE  that's TESTED 3 times 🙂  NO FAIL CHEWY AND EASY. Finally, I've made sapin Sapin. Guys, I have tested and tried making Sapin Sapin 3 times and I have failed and learning from those mistakes, F.I.N.A.L.L.Y a no fail Sapin Sapin for you. And I am soooo excited.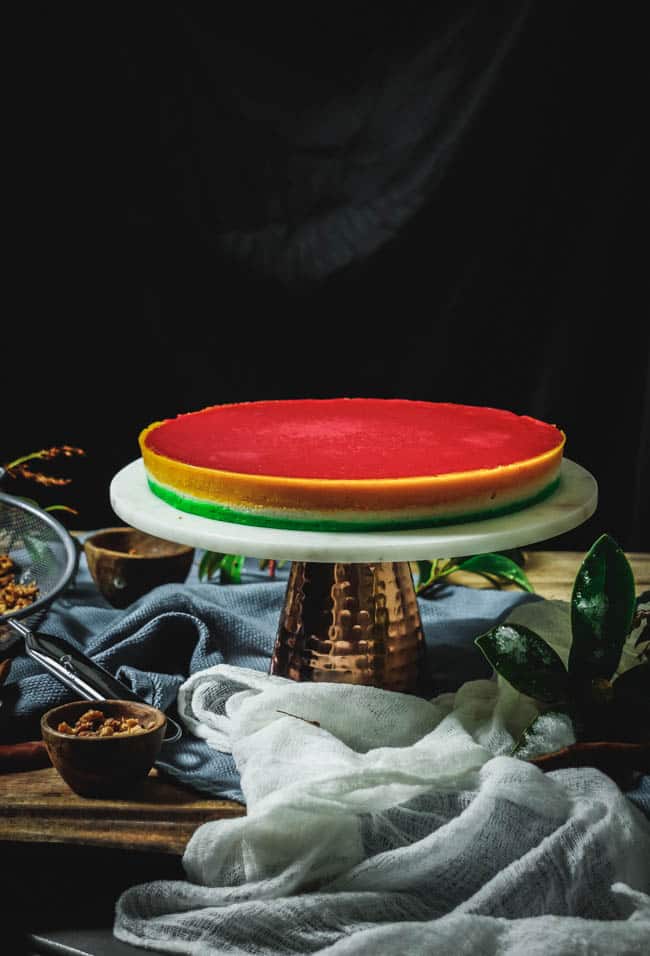 It is almost Christmas! In addition to this recipe, you can try these dessert recipe collection too if you fancy it: 10 EASY FILIPINO DESSERT YOU CAN MAKE FOR NOCHE BUENA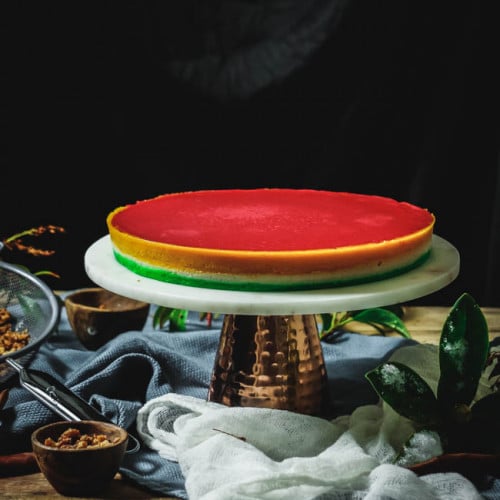 NO FAIL CHEWY AND EASY SAPIN SAPIN RECIPE
Chewy,no fail Sapin Sapin recipe you should try. Sapin sapin is actually really very easy to make and it is made only of few ingredients.
Print
Pin
Rate
Ingredients
2

cups

glutinous ruce flour

1

can 13.5 fl oz coconut milk

1

can condensed milk

3/4

cup

white granulated sugar
FOR THE TOPPINGS:
4

cups

of Creamy Coconut Milk (choose the creamy coconut milk

since the usual coco milk doesn't work
Instructions
FOR THE TOPPINGS:
Pour the Creamy Coco Milk in a medium sized sauce pan and cook in medium heat until it curdles and turns into brown color. It took about 35-40 minutes to curdle and brown. Strain to separate the toppings. You can keep the oil for your hair of face or you can discard it.
FOR THE SAPIN SAPIN
Mix all of the ingredients in a large bowl and mix until there are no lumps. Stir until sugar is dissolve. Divide the batter equally into 4 bowls. In this recipe, it was 1 1/4 of batter in each bowl. In one bowl, add Pandan extract and stir until color is well disperse. In the second bowl, add Langka extract and yellow food color and mix. In the next bowl, add a red food color and on the 4th bowl, just leave it plain white.

Generously spray 9 inch baking pan OR spring form pan with cooking non stick spray and pour the green batter into the pan. Steam batter for 15-20 minutes until the batter is compact or, it when a toothpick comes out clean.

Pour in the yellow batter on top of the green batter and steam for another 15- 20 minutes.

Then pour the white batter on top of the yellow batter and steam for another 15 to 20 minutes.

Pour the red batter and do the same as the rest of the batter.

WHEN READY, let the Sapin Sapin cool down and remove sides of the spring form pan. Add the topping on top. You can leave the Sapin Sapin on the base of the pan or you can transfer it in a large plate. Enjoy.
Notes
NOTE: I highly recommend using spring form pan to release Sapin Sapin easily
Spray pan generously with non stick spray. The first time I messed up my Sapin sapin by not doing this.
Make sure that you tie a towel ,or cloth in your steamer cover so that moisture is drained through it. Like this photo here when I made the Siopao. CLick here
It is almost Christmas! In addition to this recipe, you can try these dessert recipe collection too if you fancy it: 10 EASY FILIPINO DESSERT YOU CAN MAKE FOR NOCHE BUENA