Bibingka Bisaya is a favorite Filipino snack sold in some stalls in the Philippines. It is also a favorite Christmas early morning snack after Misa De Gallo. Paired with coffee, this is just so delicious.
Today is a good day, because today, I will show you how to make Bibingka Bisaya.
If you are OFW from the VisayaS region in the Philippines, I am betting that you have tasted this Bibingka, since it is everywhere in the sidewalk stalls sold in large batch for snacks.  If it is 9 days before Christmas, and you are out attending Misa De Gallo, it is sold in the stalls as well.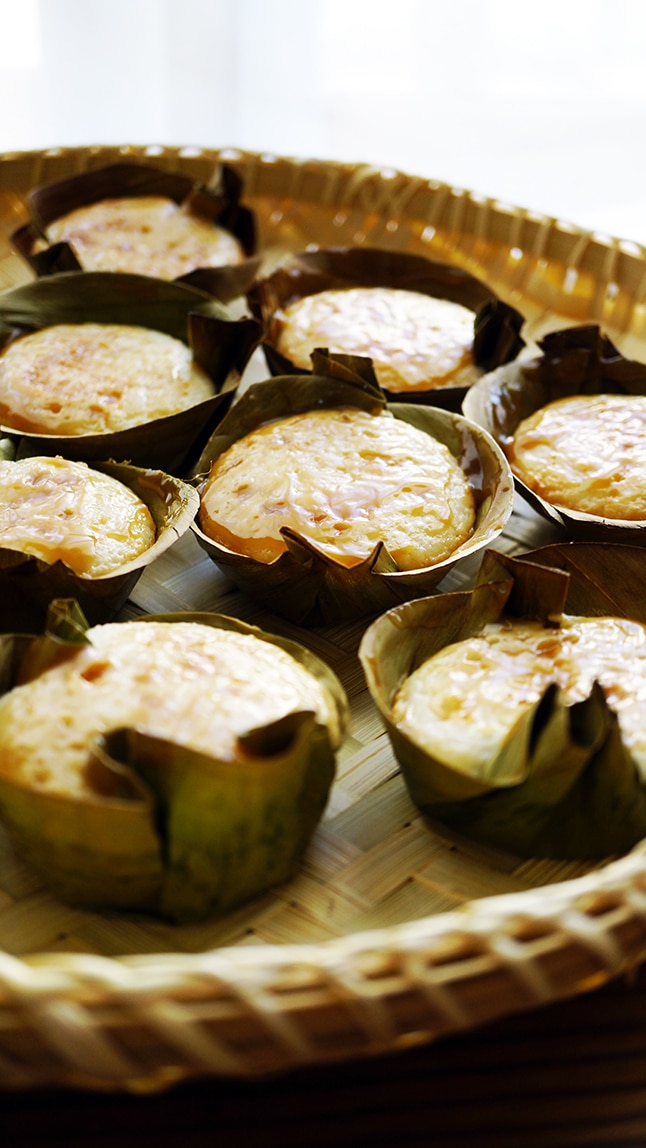 WHAT IS BIBINGKA BISAYA
Bibingka is a Filipino rice cake that are usually eaten as snack and serve during Christmas. There are various types of Bibingka in the Philippines and each variation is depends on the type of ingredients use. For example, Bibingka Galapong, which are the type of Bibingka famous in the Northern side of the Philippines,  uses Glutinous rice flour as the main ingredient and it is topped with itlog maalat , cheese or even shredded coconut.
Today though, we are making  the type of Bibingka from where I came from. BIBINGKA BISAYA. Bibingka Bisaya  is famous in the Southern side of the Philippines, particularly the Visayan region. Bibingka Bisaya  is made of rice flour and cooked rice, which then mixed together to achieve that airy consistency of the rice cake.
For a very long time, I have been wanting to learn to make Bibingka Bisaya and nobody shared their recipe. Thanks to You Tube, I found this recipe and I cannot stop making this. And I really hope you can try it too, because this recipe is SPOT ON! It got the airy spongy texture, it got the smell of the banana leaves sticking to the cake too.
Normally, you cook Bibingka in a small clay pot line with banana leaves . You pour in the dough and cover it with a tin plate with heated charcoal. It will be baked in hot coals for 20 minutes.
TIPS FOR MAKING BIBINGKA?
It's in the preparation. I usually prepare the ingredients ahead of time so that I will not be stressed out.
1st Prepare the Banana leaves. Thaw if the leaves are frozen and when ready, check the Banana leaves and discard the damage ones. Wash and wipe dry. Using a round bowl, cut the leaves into round shape and  directly put it in oven burner moving slowly around the leaf until it is glossy. Line it in a large sized muffin pan.
2nd  I measure the coconut milk and blend it with the rice.
3rd  Mix the ingredients for the rice flour and coconut batter.
4th Now you are ready to get cooking.
HOW TO STORE BIBINGKA?
You can store Bibingka  in a sealed container and put it in the fridge. It can last 4 days and if you made some for future consumption, you can wrap it individually with cling wrap and freeze them. Thaw it then heat it up in the microwave for 40 seconds.
2 SECRETS TO MAKE SPONGY BIBINGKA BISAYA
Fermented yeast
Blended cooked rice mixed with coconut milk
AND IF YOU FANCY IT, YOU CAN MAKE THESE MEALS TOO:
BIBINGKA BISAYA (HOW TO MAKE BIBINGKA FROM SCRATCH)

Bibingka Bisaya is a favorite Filipino snack sold in some stalls in the Philippines. It is also a favorite Christmas early morning snack after Misa De Gallo. Paired with coffee, this is just so delicious.

Ingredients

2 1/4 cups rice flour

2

cans

13. 5 fl oz coconut milk ( 2/3 cup to mix with the cooked rice, 1 cup mix with the rice flour, left over for latik)

1

cup

granulated sugar

1

cup

regular cooked rice

put in a blender with 2/3 cup of coconut milk

1

Tablespoon

baking powder

1/4

teaspoon

salt

1

tsp

yeast

1/4

cup

warm water

1

tsp

pure vanilla extract

optional

1

tsp

coconut oil or any cooking oil

Wilted banana leaf

cut in circles

Instructions

PREPARE THE BANANA LEAVES

Using a 5 inch round bowl as pattern, cut leave into and line in a medium sized muffin pan. Set aside.

PREPARE THE YEAST

Mix yeast with 1/4 cup of warm water , add a pinch of sugar and let stand until bubble forms.

BIBINGKA BATTER

Prepare the cooked rice and 2/3 cup coconut mixture by blending them on high. Set aside.

In a medium sized bowl, add the rice flour, 1 cup granulated sugar, baking powder and salt. Whisk and stir to mix and add 1 can coconut milk. Stir until there is no lumps.

Add in the blended cooked rice with coconut milk to the bowl Add the fermented yeast and mix to incorporate. Cover bowl with cling warp and let sit for 30 minutes.

When ready, stir batter gently and pour 1/3 cup batter into the lined pan and bake at pre heated oven 375 F for 30 minutes,or until Bibingka is cooked through ( insert a toothpick in the middle of the cake and see if there is no batter stick to it.) I usually start checking 20 minutes into baking.

FOR THE LATIK

Put the coconut milk leftover in mediums ized sauce pan and mix with 1/2 cup sugar. Cook in a low heat until it will be thick in consistency.

Brush the latik on the cooked Bibingka, and broil on high for 5 minutes OR LOWER. Broil until the top is gently charred. NOTE: While broiling, watch it. OR YOU'LL BURN YOUR BIBINGKA.

Video