Crispy Pata has to be crispy, right? Today you may now have the answer of frying Crispy Pata that actually is crispy. So scroll down and see for yourself.
Now look at that bubbling skin… that one is crisp 🙂
Isn't it annoying when your Crispy Pata is brittle and not crispy? I hear yah. So I made this meal today.
Crispy Pata is one of my favorite among the many Filipino foods we have. I wish I can say it is healthy but it is not; so I only cook it once in a while. But when I was in college, I ate this all the time. Since I believed that when you are young and active, I might as well indulge with sinful food like this one. But now that I am older, I try to eat   a bit healthier; so I ate this Beet Salad and this Egggplant Boats.
Crispy Pata is usually consumed as pulutan ( reliable pair with liquor) during drinking sessions. It can be an appetizer or a main course. Crispy means crisp and pata means thigh. We usually use pig thigh on this one and cook the whole leg.  For convenience, I asked the butcher to cut the pata into small pieces so that it will be easier to fry and it will fit in into my fryer. I f you have those huge electric fryer, lucky you. I have been wanting to have one but it will be difficult to store, so I have this cute little fryer which is still reliable when I deep fry for my Lechon Kawali and when I make this Crispy Pata.
The best secret I learned from making this meal so many time is that… DRY THE PORK THOROUGHLY TO MAKE THE PATA CRISPY. SO I DRAIN THE WATER OUT , PAT THE MEAT DRY AND I EVEN REFRIGERATE IT BEFORE FRYING. Enjoy this meal once in a while to quench you Crispy Pata craving.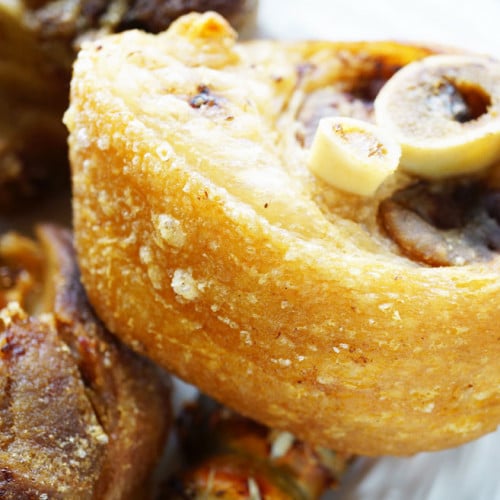 Ingredients
2

lbs

Pig thigh

2

teaspoons

ground pepper

2-3

tablespoons

salt

10

cups

of water

4-5

cups

of canola oil
FOR THE SAUCE:
1/4

cup

soy sauce

1

tablespoon

white vinegar

2

cloves

garlic

chopped

1

small onion

chopped

chili

loads of them
Instructions
Preparing the Crispy Pata
Put all of the ingredients in a deep sauce pan and cook until soft. or you can crock pot the meat for 4 hours .

When the pata is cook and soft, drain the water and let the meat cool.

Pat dry the meat and put into a zip lock. Refrigerate meat before frying.
Frying the Crispy Pata
When ready, heat the cooking oil in a electric fryer. Make sure the pata is dry and not moist then fry until golden brown.
FOR THE SAUCE:
Mix all the first 4 ingredients and season according to your taste. Add the number of chili based on what you can handle. I use 3 pieces
Notes
Make sure you use a covered fryer because oil tend to splatter everywhere. Be safe