Maja Blanca!!! MINIMUM STIR 3 INGREDIENT EASY MAJA BLANCA. Wheeew! That's something for a title. Minimum stir, 3- ingredient and may I add: easy , creamy and simple … because this Maja Blanca is what it is.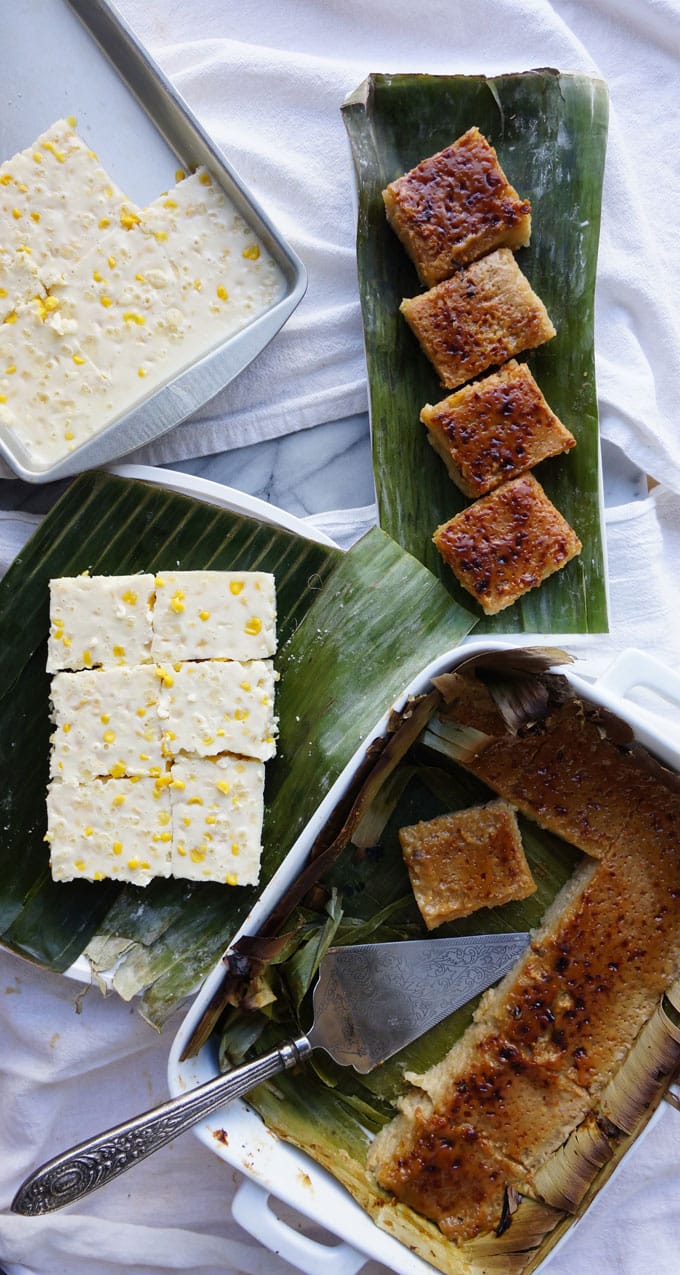 For this recipe, I skipped the Corn Flour or Cornstarch altogether to make it super quick to make. Guys, gone is the day when you have to stir your Maja Blanca for 30 minutes or even an hour to get the thick and smooth Maja Blanca consistency.
So this is the scenario before when I am using corn starch for my Maja Blanca: I stir for an hour and then I still see lumps in it and I stir some more for another 30 minutes; this time my wrist is hurting, my patience extinct, my shoulder stressed, and still there is more lumps!!! Finally given up I strained the mixture. Although it turned out delicious, I am filled with guilt of omission, because stirring your Maja Blanca and using corn starch is the normal way to make this dessert.
BUT WHO SAYS HURTING YOUR WRIST BY STIRRING THE MAJA BLANCA FOR A LONG TIME IS THE ONLY WAY????
I did not like that time and moment of stirring, that is why I don't make Maja Blanca whenever I have a party. I just did not have the patience.
But lately, I have been using this Maja Blanca recipe not only for every party I have at home, but also for our daily dessert after dinner. Why, because this recipe is so easy… Easy Peasy …. Stirring and painful, hurting arm is gone.
I actually got this recipe from my high school friend when I visited her and that was maybe 14 years ago. Careless as I am, I just tossed the recipe in a stack of paper and forget about it. Last November, I was trying to donate some books and I found the recipe
WHAT IS MAJA BLANCA?
Maja Blanca is a Filipino version of Coconut and Corn Pudding. The consistency is almost similar to a Tapioca Pudding but it is firmer. Similar to Leche Flan and Puto Cheese, it is a favorite Filipino dessert but it is usually made with cornstarch as the main ingredient and with coconut milk. This is usually serve as dessert during parties.
Maja Blanca Ingredients:
In PI we used corn starch to get the pudding consistency; but today, we will use only 3 ingredients that are readily and easily available in most grocery stores: Knox unflavored gelatin, cream of style corn and a can of condensed milk.This why I cannot stop adoring this recipe.
So we start with sprinkling three packets of unflavored gelatin in a sauce pan, add in 1 cup coconut milk. Let stand for 2 minutes and place the mixture under low heat and stir constantly until granules completely dissolve. Now you can add the rest of the ingredients: coconut milk, cream of style corn and the condensed milk and continue heating for 3 more minutes. Pour the mixture into a baking pan and refrigerate overnight it is firm.
What I love About Recipe:
No long stirring involve.
Not too sweet.
Consistency is smooth and creamy
3 Ingredient only.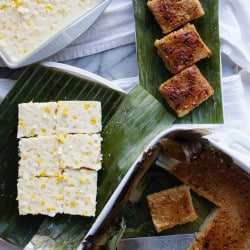 MINIMUM STIR 3 INGREDIENT EASY MAJA BLANCA
Maja Blanca is a common Filipino dessert with Corn Flour as its main ingredient. It also had coconut milk, and creamy style corn to complete its pudding like consistency.
Print
Pin
Rate
Ingredients
1

can 14 oz condensed milk

1

cup

coconut milk

1

cup

water

1

can 425 gram Cream of Style Corn

3

packs White Knox Gelatin Sachet
Instructions
Pour 1 cup water Into a small medium sized sauce pan and add 3 pack of Knox gelatin. Let it stand for 2 minutes and turn on heat. Mix Knox gelatin and then add the coconut milk, condensed milk and cream of style corn. Continue cooking in low heat until mixture is simmering, then tun off heat.

Pour mixture in a pan, let cool and refrigerate overnight or until the mixture is firm and cold.

Serve Maja Blanca cold.