How do yo make a nom dense Spanish Bread?
Soft and fluffy Spanish Bread recipe and step by step instruction video for your success. Easy list of ingredients that are pantry staples,  and clear guide in using them.
FOR MORE FILIPINO BREAD RECIPE: The Beast Pandesal Plus Step by Step Video, Ube Pandesal with Cheese Filling, Buchi Recipe, Shakoy/Twisted Doughnut Recipe
HOW TO MAKE A NON DENSE SPANISH BREAD
Hello, guys! Today, I am sharing with you this Spanish Bread recipe which me and my whole family love. This Spanish Bread recipe yields a soft and fluffy bread and a very tasty filling. This Spanish Bread version is just how I remember it.
If you live in Visayas region, specially in Cebu, you must be familiar with Anita's Bakery. This is a bakery that is open 24 hours 365 days a year, and its light is turned on to the highest level, that you cannot miss it even in the darkest moment of dawn.
My board mates and I always had fun eating Spanish bread during finals week; while we were studying and goofing at the same time. Then we'll decide to walk to Anita's bakery at 2 AM and have our fill with this deliciousness. Aside from the soft and fluffy bread, I love the filling the most. It is sweet and crumbly from the bread crumbs and just sooo good – I did not realize I already ate 3 pieces of it.
SO, I AM URGING YOU GUYS TO MAKE THIS FILIPINO SPANISH BREAD AND SHARE NOSTALGIA WITH ME.
Making Spanish bread is really easy to make. The only problem is that sometimes, it will turn out hard and dense. So the challenge is in making your Spanish Bread soft and fluffy.
I understand that you want your Spanish Bread to be is excellent the first time you make them, but most of the time, as first time Spanish Bread baker, the dough  and bread becomes hard and there's a solution to that.
How to make this Bread
As what I mentioned, making Spanish bread in general is not hard and one that really rises during fermentation is hard to come by for some amateur bakers like you and me; so I will share with you my tricks, to make a soft and fluffy Spanish Bread.
Make sure your yeast is alive. test it by dissolving the yeast in warm water. If it bubbles after 5 minutes, then it is not expired.If not. time to discard it.
Knead just enough. I usually knead my dough for about 7 minutes in stand mixer and 14 minutes by hand.
Don't add too much flour. It is always advise that in order for the dough to not stick on the kneading surface, we have to sprinkle the surface with flour. Sometime though, we add too much. And that will change the ration of the dough and recipe altogether.
Did you forget to add the butter? It happened to me. I forgot to add the butter. Fat activates the yeast and increase the gas formation, and this make the bread fluffy and soft.
Did you let it rise in a warm place?
Spanish Bread filling Ingredients:
½ cup unsalted butter
½ cup brown sugar
1/3 cup condensed milk
¾ cup bread crumbs
¼ cup all purpose flour
1/3 cup cream
heavy cream or whipping cream
Spanish Bread dough Ingredients:
1 cup warm milk
1 tablespoon sugar
2 teaspoon active dry yeast
3  1/4 cups flour
3 tablespoon sugar
1 teaspoon salt
1 egg
1/3 cup unsalted butter
Now let's make this!
There are several kinds of bread in the Philippines which we like.
Below are some of the list.
Follow me on Instagram, Pinterest and Facebook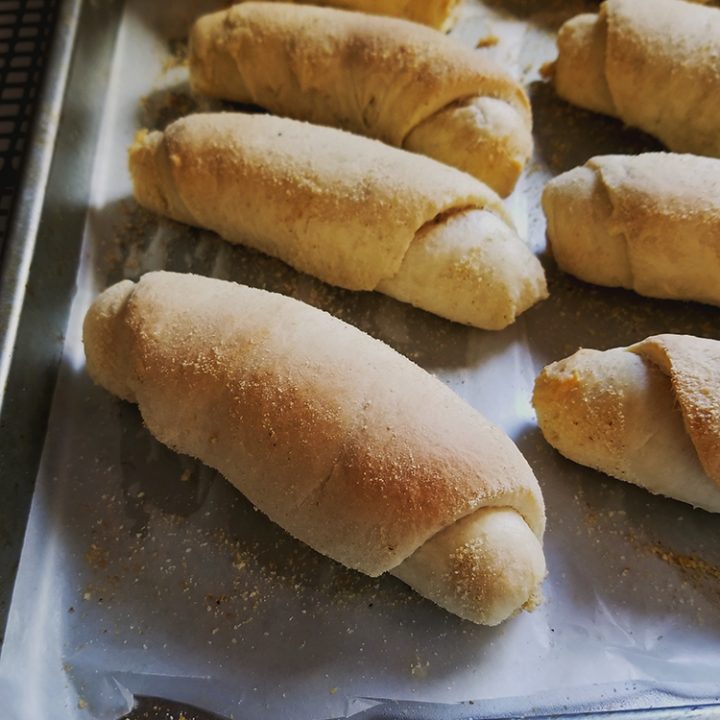 HOW TO MAKE A NON DENSE SPANISH BREAD
Soft and fluffy Spanish bread recipe and step by step video for your sure success. Easy list of ingredients that are pantry staples, guide on using them detailed instruction.
Print
Pin
Rate
Ingredients
PART 1

1

cup

warm milk

1

tablespoon

sugar

2

teaspoon

active dry yeast
PART 2:
3 1/4

cups

flour

3

tablespoon

sugar

1

teaspoon

salt
PART 3 LIQUID INGREDIENTS:
1

egg

1/3

cup

unsalted butter
FILLING:
½

cup

unsalted butter

softened at room temperature

½

cup

brown sugar

100g

1/3

cup

condensed milk

¾

cup

bread crumbs

90g

¼

cup

all purpose flour

33g

1/3

heavy cream or whipping cream

1

CUP

BREAD CRUMBS TO ROLL THE DOUGH
Instructions
Turn on oven to its lowest setting and let it warm for 10 minutes. Turn off oven.

Grease a bowl and line baking pan with parchment paper.
MAKE THE SPANISH BREAD FILLING:
Put 1/2 cup butter in a medium sized bowl.

Add the brown sugar. Mix using a spatula or hand mixer. Mix until it until it changes to pale color.

Add the condensed milk,heavy whipping cream, and mix until incorporated.

Add the bread crumbs and  flour. And mix until there are no lumps.

Refrigerate mixture for 30 minutes, so that it will be easy to work with when we fill the dough.
PREPARE THE YEAST MIXTURE:
Warm milk in the microwave. Make sure it just warm to the touch. Hot liquid kills yeast, and will make your bread not rise and dense.

Add in 1 tablespoons of sugar and 2 teaspoons of active dry yeast.

Let rest until form a bubble. About 5 minutes.
PREPARING THE SPANISH BREAD DOUGH:
In a large bowl, add in the flour, sugar and salt. Make a hole in the middle and pour in the yeast mixture.

Mix and add the egg and butter. This will yield a very goo-ey dough, but keep on kneading it until dough do not stick on the side of the bowl.

When dough do not stick on the side of the bowl, form it into a bowl and put in a greased bowl and cover. Let rest in a warm place for an hour to double its size.

After 1 hour, and when the dough has double in size, remove the dough from the bowl and put in a flat surface. punch dough to remove air and flatten into a rectangle.

Divide dough into 16 pieces and form into a small ball. Flatten the dough using a rolling pin and add the filling on the edge of the dough and roll.

Seal the end and the side of the dough and arrange in a non greased pan.

Roll dough in bread crumbs and line them in a non greased pan. Do the same of the remaining dough.

Cover the dough and put in a warm place, covered for another 30 minutes.

Pre heat oven at 350 F.

When the dough is ready, bake at the pre heated oven for 2o - 25 minutes,or until the top changes its color to golden brown. OR, when it sounds hollow when you top it.