I always thought that I am/was born an entrepreneur. When I was 9 years old, during summer,I always hang out at my neighbors house and I helped her out making CASSAVA SUMAN for her small snack business.
I was not paid from that labor, but I found myself helping her out everyday . I was assigned in grinding the cassava and wrapping them in the banana leaves. In that little venture, I've also learned how to make Hot Mongo, Arroz Caldo and Turon.
In the old days, I had to manually  grind the cassava,but now, you can purchase a pack of frozen grind cassava- all ready  to cook. I've used it before, but the taste, and the texture of my Bud bud was just awful; so, every time I make my Cassava Suman, I grind it myself while watching Netflix or listening to music just o pass the time. Enjoy this Bud-bud Balanghoy,will you?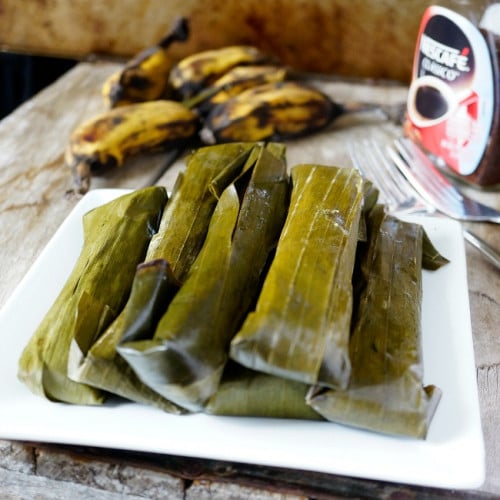 Print
HOW TO MAKE BUD-BUD BALANGHOY OR CASSAVA SUMAN
Ingredients
3.3

lbs

of freshly harvested cassava

remove the bark, wash and grate

1 1/2 to 2

cups

light brown sugar

add sugar according to your liking. Test the mixture by frying a small amount

1/4

cup

of bottled young coconut

washed to remove the sweetness and then chopped.THIS IS OPTIONAL
Instructions
Mix first three ingredients and line the mixture in the banana leaves. Roll banana leaves and seal

at the end.

Do the same to the rest of cassava mixture.

Line the Suman in the steamer.

Put 10 cups of water in the bottom part of the steamer and let it the water boil.

Put the top two layer of the steamer on top of the bottom one and steam Suman for 45 minutes.

Enjoy