These Crescent Rolls with Mozzarella Cheese Filling are very easy appetizer and bread to make: 1) because they are not made from scratch 2) you just have to slice the cheese in two and stick it into the dough and you will have a delicious snacks.
I made this rolls awhile back, I just did not get around in making a post  of it. I had some mozzarella cheese string for my clan's lunch and I thought I can make something out of it that is not always in the norm. I was scared also that the mozzarella cheese will stale, I have to use it as quickly as I can. So I made these crescent rolls with Mozzarella Filling. You can choose your cheese string flavor. As for me, I love mozzarella so …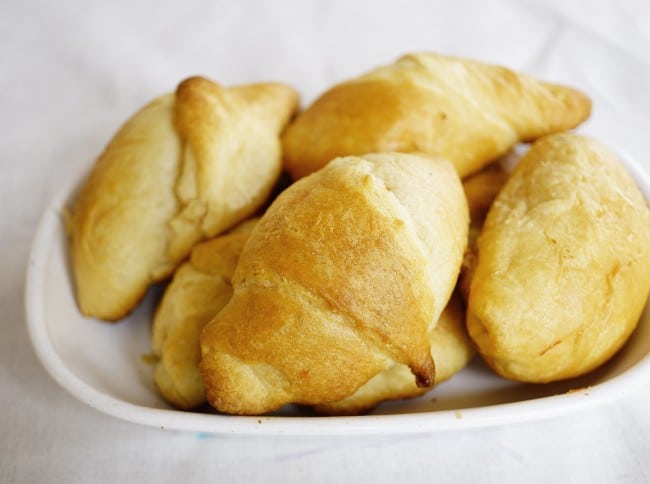 These crescent rolls with mozzarella cheese were inspired from my college days when my board mates and I were up late to study for our midterm exams. By midnight, our bellies were churning in from hunger and we'll  decide to walk to the nearest bakery and grab a cheese bread or a cinnamon bread.  Remembering  that time, I am amaze of how brave I was to walk in the middle of the night with friends, in the middle of of the dangerous place in Cebu City, just to have my fill of cheese bread.  But it was so much fun hanging out with my friends; sitting on a plastic and dusty chair,while clutching on to a freshly baked bread and once in a while trying to look out for cute and studious  engineering students who were also up late . Yum, not the boys but the bread – I can still smell the freshly baked bread…
As my children were eating  this bread for snacks,  I share with them the story of  this bread, and I purposely did not leave out the cute boys. I thought they will find it amusing to know that when I was younger, I was boy crazy too. Cute boys – good memories, good stories and good bread, I did not think that my kids had any qualms of taking a huge bite of this bread.I thought it was a simple yet very delectable appetizer. You can pack it to lunch or you can eat it for breakfast.
Print
Pillsbury Crescent Rolls with Mozzarella Cheese Filling
Servings: 8 • Serving Size:1 crescent rolls • Old Points: 1 • Points+: 1• Calories 40• Fat: 3.0 g • Protein: 3 g • Carb:.5 g • Fiber: 0g • Sugar:0g • Sodium: 100 mg
Ingredients
1

can

8 pcs Pillsbury Original Crescent rolls

4

cheese string in your favorite flavor

divided into 2
Instructions
Pre heat oven at 375 F.Coat baking sheet with non stick cooking spray. Remove the crescent roll out from the can and lay it flat on a greased surface. Lay flat the dough and gently separate them.

Put the cheese on the tip end of the crescent roll dough and roll per can's instruction. Seal edges of the crescent rolls if necessary so that the cheese will not ooze out. Bake the crescent rolls for 15 to 20 minutes or until the rolls are golden brown. Serve hot.