If you need to be healthy and in need of healthy oil in your body, this Salmon Meatballs is for you. Easy, affordable and healthy. Lots of healthy benefits.
 Here is an easy recipe for salmon that you can prepare at home. This is  one of those easy and  convenient salmon recipe which you can use if you have salmon left over. Salmon has a lot of good health benefits and Salmon has been known as the source of healthy oil which is good for the heart . Salmon meat is also great to fight depression and  it has been known to improve memory ,so I always serve it for my clan.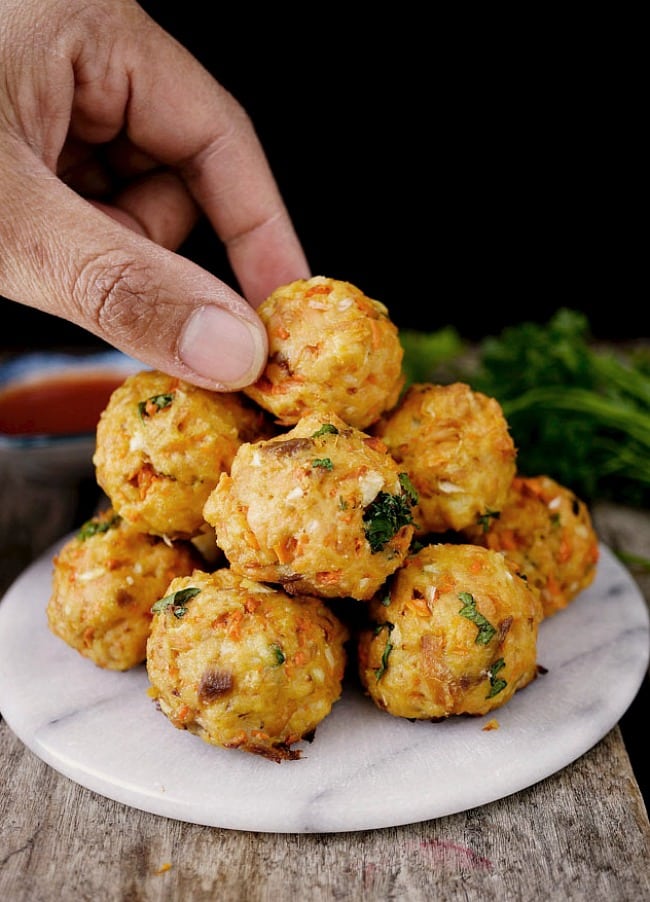 I love salmon. Yup, it smells fishy, but I actually like its smell. It reminds me of the day when I was just 15 years old and my dad came home from fishing . He arrived home smelling like fish. This memory is special to me because when I was growing up, my dad, just like any other Filipino dads, had to go abroad and work outside the country to give us, his family, a better life. So on one of his vacations, he decided to fish and he arrived home with a bucket of  little fishes. He will cook and fry them as we eat it for dinner. Then he will tell us how he loved fishing as a hobby and then tell all his stories as we listened in awe of his fishing adventures. I think this memory had made me a good fish eater… In the Philippines, we were blessed enough to enjoy fresh fish in the market. But when I came here in the US, I got stuck into eating frozen and sometimes fresh salmon.
Although fresh salmon is not common here in my place, I use salmon as a form of "Filipino fish counterpart." I usually grill it, cook it as tinola (Filipino soup), paksiw ( salmon with ginger and vinegar ) or sometimes, adobong salmon;  but my clan love it when salmon is made into balls or meatballs so this recipes is always in our meal. I tell you guys, this is very easy to make and this can also be used for any left over fish you got.
Also try these recipes if you want more salmon : Stir Fried Teriyaki Salmon and Salmon with Avocado Salsa and don't forget to Pin and Like me on Facebook. Have a great day!
PS: You can eat these salmon meatballs with rice or make it into a sandwich with ketchup and mozzarella cheese on it with lots and lots of cilantro and lots of onions. WARNING: IT DOES SMELL FISHY, BUT THINK ABOUT  YOUR WELFARE:SALMON IS GOOD FOR YOUR HEART 🙂


For more Seafood recipe:
3 Ingredient Deep Fried Shrimp Roll
Japanese Style Deep Fried Shrimp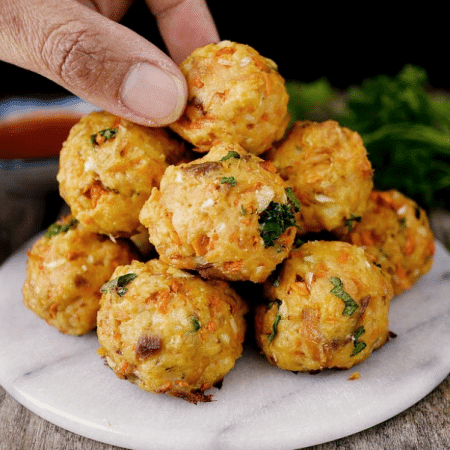 Ingredients
4

pieces

skinless and boneless pink salmon left over or freshly fried or broiled

chopped

2

cloves

garlic

minced

1/4

cup

onion

chopped ( from 1 small onion)

1/2

cup

cilantro

chopped

1

tablespoon

parsley

(optional)

1/4

cup

carrots

(the 3" long and thumb size thickness)

1

tbsp

Panko bread crumbs or 1 tbsp cornstarch

3

eggs

beaten

1/2

tsp

or more salt

according to your liking. Try it by frying a small salmon mixture and season the salmon according to your liking

pepper to taste

Canola Oil for browning the salmon
Instructions
Preheat oven at 350 F.( you can bake or fry these Salmon meatballs;your choice, but I love the fried one better)

Place shredded left over salmon in a medium sized bowl. Add in carrots, garlic, parsley, cilantro panko bread/cornstarch and mix together. Add in beaten egg and continue mixing until completely incorporated. Add salt and pepper depending on your liking. Form salmon into a ball.

Heat oil in a medium size frying pan and brown all sides of Salmon Meatballs. ( Stop here if you are just frying ) Cover cookie sheet with tin foil and grease with non stick oil. Arrange salmon meatballs into a baking sheet and bake for 15-30 minutes or until salmon is set. Serve salmon meatballs with ketchup or any sauce that you like. My clan like non-fat dressing. Enjoy!