Baked Doughnuts Vanilla Glazed.Yes, you can bake your doughnuts and not fry them. And the cool thing about it, is that it is super simple to make.
Hey, guys, after I shared with you this Maple Walnut Blondie ,  I am in a mission today to make an equally attractive dessert in the form of this Vanilla Glazed Baked Doughnuts.
Just looking at the pictures, I fell in love with it and so are my kids…
Aren't they cute and attractive? That pink sprinkles, remind me of Legally Blonde.
This Baked Vanilla Glazed Doughnut is long time coming. I was planning to make it 3 years ago when I first got my doughnut pan and for some reason, maybe laziness, hadn't got around it. And for another reason, I am not really a doughnut eater because I am not a fan of oily doughnuts and deep fried ones, so I very seldom eat them.
But this Vanilla Glazed Doughnut is baked in the oven, no frying needed and I am happy to say that there is not a lot of butter in it, so  I highly recommend it. And finally this Baked doughnuts happened.  I actually got the recipe from As Easy As Apple Pie Blog and I thought gave it a try. And it was a success!!
This Baked Doughnuts Vanilla Glazed is consist of ingredients that we usually used for baking, so I assume, you can make this doughnut right now.
This doughnut you are seeing right now is actually my second batch because I made the mistake of filling the doughnut cavity to the brim and the doughnut hole was covered and it looks awful.
What I love about this doughnut:
1.it is not screaming sweet: it is not  sweet at all and I think the star here is the butter which upped the dough tastes to the  cake side. SO, the dough is sturdier and the doughnut itself is cake-y yet really soft and plump.
2. It is so easy and quick to make.
3. Cannot get over the color….They look beautiful. Love the color perfectly bake and love the pink color.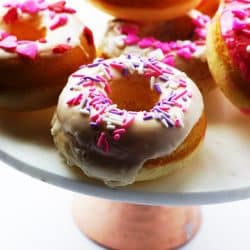 Vanilla Glazed Baked Doughnuts
Vanilla Glazed Doughnut. Yes, you can bake your doughnuts and not fry them…You are welcome!
Print
Pin
Rate
Ingredients
DRY INGREDIENTS:
1

cup

All Purpose Flour

1/3

cup

granulated sugar

1

teaspoon

baking powder

1/2

teaspoon

salt
WET INGREDIENTS:
2

tablespoons

unsalted butter

1

egg

1 /3

cup

PLUS 1 and 1/2 tablespoon of Evaporated Milk

1

teaspoon

Vanilla Extract
GLAZE INGREDIENTS:
1/2

cup

powdered sugar

1/2

teaspoon

vanilla extract

1/8

teaspoon

salt

1 to 2

tablespoons

evaporated milk

Food Coloring and Sprinkles
Instructions
Pre-heat oven at 350 F and place rack in the middle part of the oven.

Spray doughnut pan with non stick spray. Set aside.

Put all of the dry ingredients in a medium sized bowl.

Whisk together to mix.

In another bowl, mix all of the wet ingredients .And then add wet ingredients to the dry ingredients. Mix until smooth. I just used a wire whisk to do this.
PREPARE BATTER:
Line a tall glass or cup with large zip lock and spoon out the batter. Cut the corner and pipe the batter into each doughnut cavity.

WARNING: I made the mistake of Filling the doughnut cavity more than half and the doughnut hole was covered with the batter. I literally have to re bake this doughnut. SO. PIPE JUST 1/4 fill.

WATCH THE VIDEO FOR REFERENCE.

Bake the doughnuts for 10 minutes and let them cool for a few minutes then remove it from the pan and line them on the wire rack.

While doughnuts are cooling make the glaze.
MAKE THE GLAZE:
Mix all of the glaze ingredients and add color on it.

Dip the cooled doughnut then add sprinkle immediately . Let the glaze dry before serving.

NOTE: I MADE TOW BATCH OF THE GLAZE, ONE IS COLORED AND ONE IS NOT.