Sweet and soft Buchi recipe with Mung Beans filling.
This is a soft and sweet Filipino dessert sold in the side streets in the Philippines. Coated with white sugar, and filled with Mungo, this Filipino version of doughnut balls. It's perfect with green tea and coffee- your Filipino snack id all covered.
Hello, guys! Today, we are making Sweet and Soft Buchi Recipe with Mung Beans Filling. This is  called Chapssal in Korea and it is one of their famous snacks. In the Philippines however, particularly in the place I was in, this is called Buchi.
But strangely enough, when you  search the internet, the Buchi in other island like Luzon looks like Mochi.

So now I am confuse how to call this snack which is also my favorite .
SO I WILL JUST STICK TO WHAT I KNOW AND WHAT WE CALLED IT, OK? I will call this BUCHI – BISAYA STYLE.
Pretty much this recipe is similar to the Twisted Doughnut or Shakoy recipe I made awhile back. You have to mix all of the ingredients and make a dough and let it proof. BUT, instead of forming the dough into a twister, you form the dough into balls and fill it with cooked and sweetened mung beans. You can cook the mung beans counter top, but since I am lazy, I slow cooked  Mung Beans/Mungo ahead of time so that it's ready when I get my Buchi craving.
Still, you have to use all purpose flour for this Buchi recipe. Some used self rising flour, but I have not tried it, so I can't vouch if it works.
When I was in the Philippines, I always buy a bag of Buchi and just sit down a the curb somewhere and eat them by myself. Sugar will be all over my mouth and my fingers and lick them while the other hand was pulling the other Buchi out of the bag. I then pair it with melon juice drink which is equally very sweet.
Ahh, those were good memories of my youth —– I was never even heard of the word "BILLS" before. Those were good times.
SO HOW DO YOU MAKE THIS SWEET AND SOFT BUCHI FROM SCRATCH?
Prepare the ingredients ahead of time, so that you will not be scrambling around looking for the ingredients once you start kneading.
Read the recipe instructions several times.
Prepare the equipment needed. For me, I usually forget the cling wrap.
WHAT INGREDIENTS DO WE USE TO MAKE BUCHI?
cooked mungo
all purpose flour
yeast
sugar
butter
milk
salt
SO HERE GOES, JUMP INTO THE RECIPE AND LET'S MAKE THIS!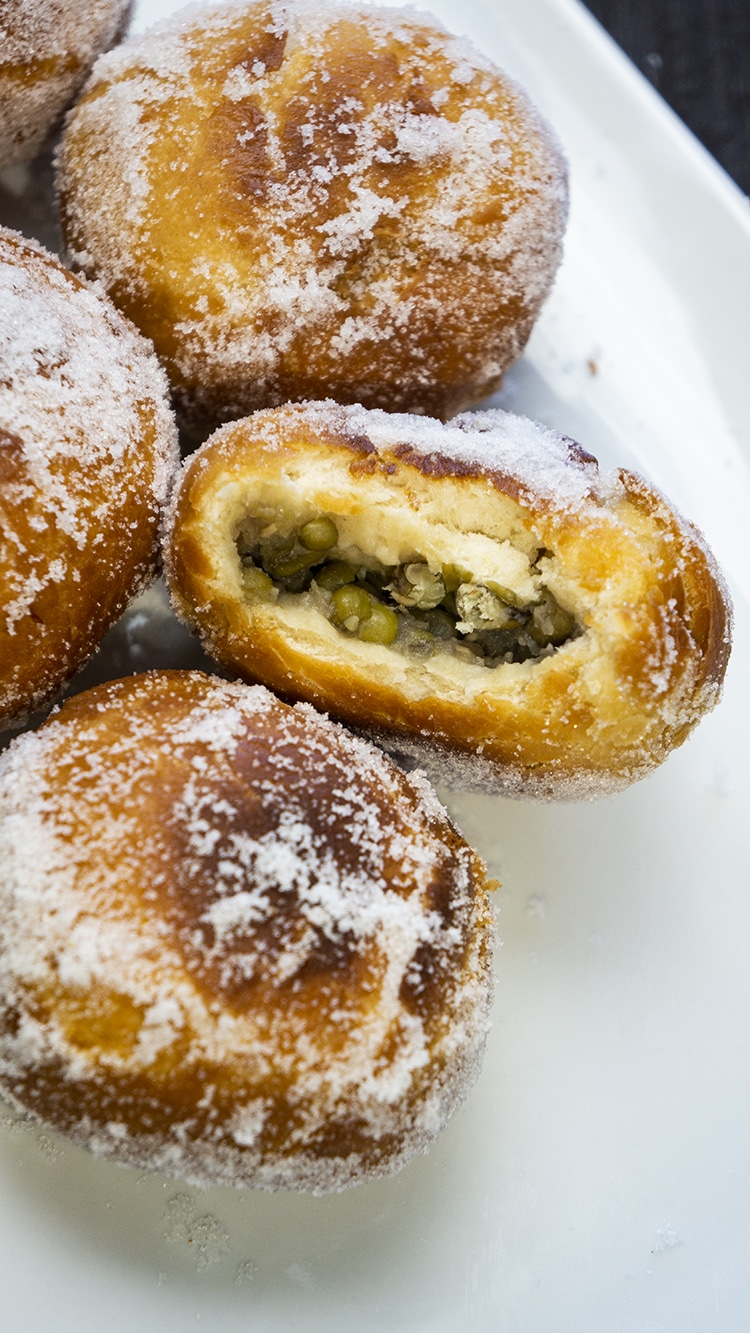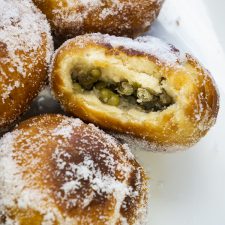 Sweet and Soft Buchi Recipe with Mung Beans Filling
Sweet and Soft Buchi Recipe with Mung Beans Filling.
Soft and sweet Filipino
dess
ert
sold in the side streets in the Philippines. Coated with white sugar, and filled with  Mung Beans or Mungo, this is a Filipino version of doughnut balls. Perfect with green tea and coffee, your Filipino snack is all covered.
Print
Pin
Rate
Ingredients
3

cups

all purpose flour

2

tablespoons

butter

1

packet active yeast

2 1/4 teaspoons

3

tablespoons

white granulated sugar

1

cup

milk

room temperature ( I prefer evaporated milk)

1

large egg

room temp

1/2

teaspoon

salt

canola oil for frying

2

tablespoon

granulated sugar for coating
MUNG BEANS FILLING:
13.2

oz

375 g Mung Beans

6

cups

water

TAKE ABOUT 2 CUPS AND ADD 1/2 cups SUGAR
Instructions
COOK THE MUNG BEANS:
Pre cook the Mung Beans stove top or Slow cooking. When cooking stove top, cook mung beans until it is completely soft.

In slow cooker, slow cooked Mung Beans on high setting for 5 hours or until mung beans is very soft. Drain using a strainer and let cool.

Take 2 cups of the cooked mung beans. Freeze the leftover for next use.

Drain mung beans and remove excess liquid. Place in a bowl and add 1/2 cup sugar and mix. Dran again or tap dry to remove excess liquid.
PREPARING THE DOUGH:
Put flour in a large size bowl and mix using a wire whisk  and set aside.

In medium heat, melt the butter in a small sauce pan. When butter is melted, add milk then remove from heat. Add egg , sugar and salt and mix until dissolve. and mix completely then add the yeast. Let yeast sit for 5 minutes. You will see bubbles.

Pour mixture into the flour and mix with a wooden spoon or a spatula. Mix and then use your hand until smooth and form into a round ball and cover with a plastic wrap. Let dough sit in a warm place for an hour until it double its size.

After an hour, punch the dough to deflate air and knead until smooth. Cover again and let it sit again in a warm place for another 30 minutes.
SHAPING THE BUCHI:
Uncover the dough and knead for a few minutes and form into a ball. Divide the ball into 2 then divide equally into 16 pieces.

Take a piece of dough form into a small ball. Poke a well and add in a small amount of mung beans in the middle. Seal the dough completely  SO THAT DOUGH WILL NOT POP OPEN WHEN FRYING.

Let the Buchi rest for another 20 minutes before deep frying.
FRYING THE BUCHI:
Heat a large amount of oil in a deep skillet setting it 350 F and lower heat to medium, to get that crisp outside and soft inside Buchi. Fry  until golden brown each side.

Put about 3-4 Buchi .Don't overcrowd the pan,to maintain the oil temperature.

Strain the cook Buchi sprinkle with sugar . Do this while Buchi are still hot.