CROCK POT ASPARAGUS MUSHROOM SOUP FOR BUSY WOMAN. Easy ready to eat soup after a long day of work. Let the crock pot do the hard work.
FOR MORE CROCK POT RECIPE:
Hi! I am here to share with you this crock pot Asparagus Mushroom soup recipe. This is not my original recipe . I got it from the old cookbook from Elsa's Landing Restaurant and I thought it is worth sharing because you can make it in traditional stove cooking as well as slow cooking using your crock pot, yet the yield is utterly  delicious. I packed this Mushroom soup for lunch. I cooked it overnight from 10 PM to 6 AM and bring it to work. This way, I am able to save money  . I also made it in traditional stove cooking as soon as I arrive from work and it is ready in 30 to 45 minutes.
Lately, I have been cooking my meals through crock pot since I have been so busy from work,raising teen agers and maintaining the house. I have become dependent with my beloved crock and I REALLY THINK THAT CROCK POT IS THE BUSY WOMAN'S SAVIOR. As busy as I am now, I am grateful for these blessings of new job, motherhood and as wife… Thank you, God.  I apologize if my incoming recipes will be crock pot made. I just have become a CROCK POT MINION… Enjoy this soup,you guys and see you later fro more crock pot recipes!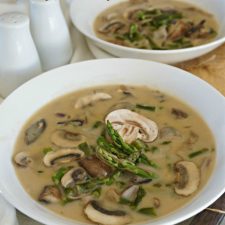 Ingredients
1/2 lb asparagus, slice into 1 inch pieces
1/2

lb

fresh mushroom

slice into bite sized pieces

4

cups

chicken stock

1

cup

Carnation Evaporated Milk

1/4

tsp

garlic salt

3

tbsp

flour

1/2

cup

onion

chopped finely

6

tbsp

light butter
Instructions
Bring 4 cups chicken stock to a simmer in medium saucepan.

Add asparagus, cover and cook over medium heat,around 10 minutes.Or until asparagus is tender.

In another saucepan melt butter in low heat.

Saute' onion and add mushroom then add the flour.

Add this mixture  to the asparagus and cover until mushroom is soft.  Add 1 cup evaporated milk and season with garlic salt.

Garnish with parsley,basil or mint. Serve hot

NOTE: You can add salt or pepper, but I like my Asparagus and Mushroom soup without salt.
To COOK IN CROCK POT:
Take 1/2 cup of milk and set aside.

Use the 6 tbsp of  butter for later.
Place Asparagus, mushroom,chicken stock,1/2 cup milk,onion  in the crock pot. Cook in high for 4 and low for 7 hours.
In the morning/ or when you come home, melt the butter in a small sauce pan and add flour.
Add the 1/2 cup evaporated milk and stir until there's no more lumps.
Add the mixture into the crock pot and stir ingredients.
Add galic salt to taste. Let it sit in the crock pot for few more minutes until soup is thick.