This is an easy Pandan Chiffon Cake recipe that yields a spongy, fluffy, and soft cake. The prep time is quick and easy. Ingredients are readily available, and the Pandan flavor was made from scratch.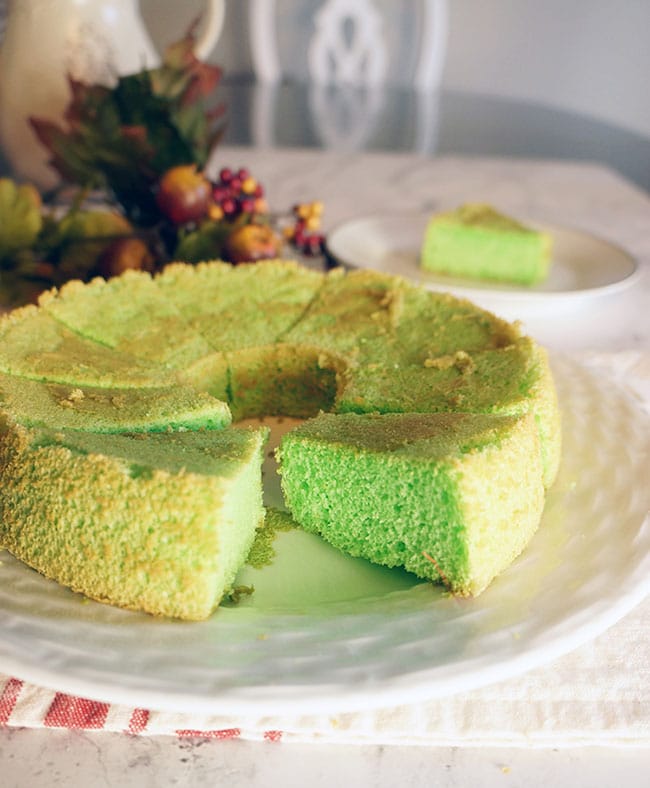 Hello, guys! It is another Monday morning, so here is another blog post that you can try – An  Pandan Chiffon Cake. This is seriously the best – from the Pandan smell, flavor, and the fluffy cake.
I tried this recipe, believe it or not, four times before I decided to post it because I wanted a very tall chiffon cake, but it turns out I have to double the recipe to make it taller. But for some reason, I did not think about that 🙂
So this cake recipe today is a little shorter in height -just like me. I used an 8-inch tube pan for this recipe, and please do the same so that you can get an equally cooked chiffon cake. This cake is excellent for special occasions. This will be a good conversation starter. Or, if you are in the mood to make more than one, you can make this Pandesal and Buko Pandan Salad too.
I DON'T HAVE PANDAN LEAVES:
I know. You might be living in a place where you don't have fresh Pandan leaves available. If you have no access to Pandan leaves, you can use Pandan essence readily available in Walmart. Just add about one teaspoon of Pandan essence to the coconut milk.
TIPS TO MAKE A SUCCESSFUL CHIFFON CAKE:
Use a tube pan to achieve an equally cooked chiffon
don't grease your tube pan
stiff peaks. You can tell that it is a stiff peaks consistency when the egg whites/ or meringue forms a horn.
I DON'T HAVE A TUBE PAN:
I have not tried using a regular pan to make a chiffon cake, but I have seen some in YT, so maybe you can check that out. In the future, I will be making a chiffon cake using a regular pan and see if it works, but until then, I can't assure you if it does.
Easy Pandan Chiffon Cake Recipe
This is an Easy Pandan Chiffon Cake Recipe that yields a spongy, fluffy and soft Pandan Chiffon Cake in no time. The prep time is quick and easy. Ingredients are easily available, and the Pandan flavor from scratch.
Print
Pin
Rate
Ingredients
3

egg yolks

1 1/2

tablespoons

white granulated sugar

20

ml

coconut oil

50

ml

coconut milk

30

ml

pandan juice plus 1/8 teaspoon of pandan extract to add green color

please see notes below

5

tablespoons

cake flour
MERINGUE:
3

egg whites

1/8

teaspoons

cream of tartar

5 1/2

tablespoons

granulated sugar
Instructions
Pre heat oven at 300 F and put the wire rack at the middle of the oven. Do not grease 8 inch tube pan.

Put egg yolks in a small bowl.

Add in the sugar and mix.

Add the oil and coconut milk and mix.

Add the pandan juice mixture and mix.

Add the cake flour. Mix using a wire whisk until all of the ingredients are incorporated.

Set aside.
! FOR THE MERINGUE:
Put egg whites in a stand mixer bowl and mix until frothy.

Add the cream of tartar and mix. Add the sugar intermittently. 3 times and mix until stiff peaks.

You can tell if it is stiff peaks, when meringue forms a horn when you pull the whisk upward.
!PREPARING THE CHIFFON CAKE:
When meringue is ready, scoop about a cup of meringue mixture and add it into the egg yolk mixture.

Use a folding method in mixing. Using a spatula, scoop mixture then pull up until all of the mixture are incorporated. Do this gently, folding too hard will result in a hard chiffon cake.

Add mixture into the rest of the meringue and mix again using the folding method.

Transfer mixture into a NON GREASE 8 INCH tube pan and holding the middle of the tube pan, tap the pan in a flat surface to remove air bubbles.

Bake at pre heated 300 F oven for 45 minutes.

Make sure the rack is in the middle of the oven.

When chiffon cake is done, let it cool upside down for 2 to 4 hours and gently remove cake from the pan using a knife.
Notes
In the video I interchange order on adding the oil, coco milk, cake flour --- it doesn't matter. It yielded the same great result.
For making the meringue, make the egg whites mix the egg whites until frothy, about 1 minute mixing,  then add the cream of tartar.
To make the Pandan juice. Blend 5 fresh pandan leaves and add about 1/2 cup hot water. Strain mixture to get 30 ml of juice.
If you don't have pandan leaves, use 2 tablespoons coconut milk and add 1 /2 teaspoon of pandan extract. Mix and measure 30 ml.