This Ensaymada recipe is no fail and easy to follow. It will 12 pieces of fluffy bread and it is perfect for Filipino party or occasion you may have. Double the recipe to make more and share with everybody.
FOR MORE THE FILIPINO BREAD ON THE BLOG, CLICK HERE: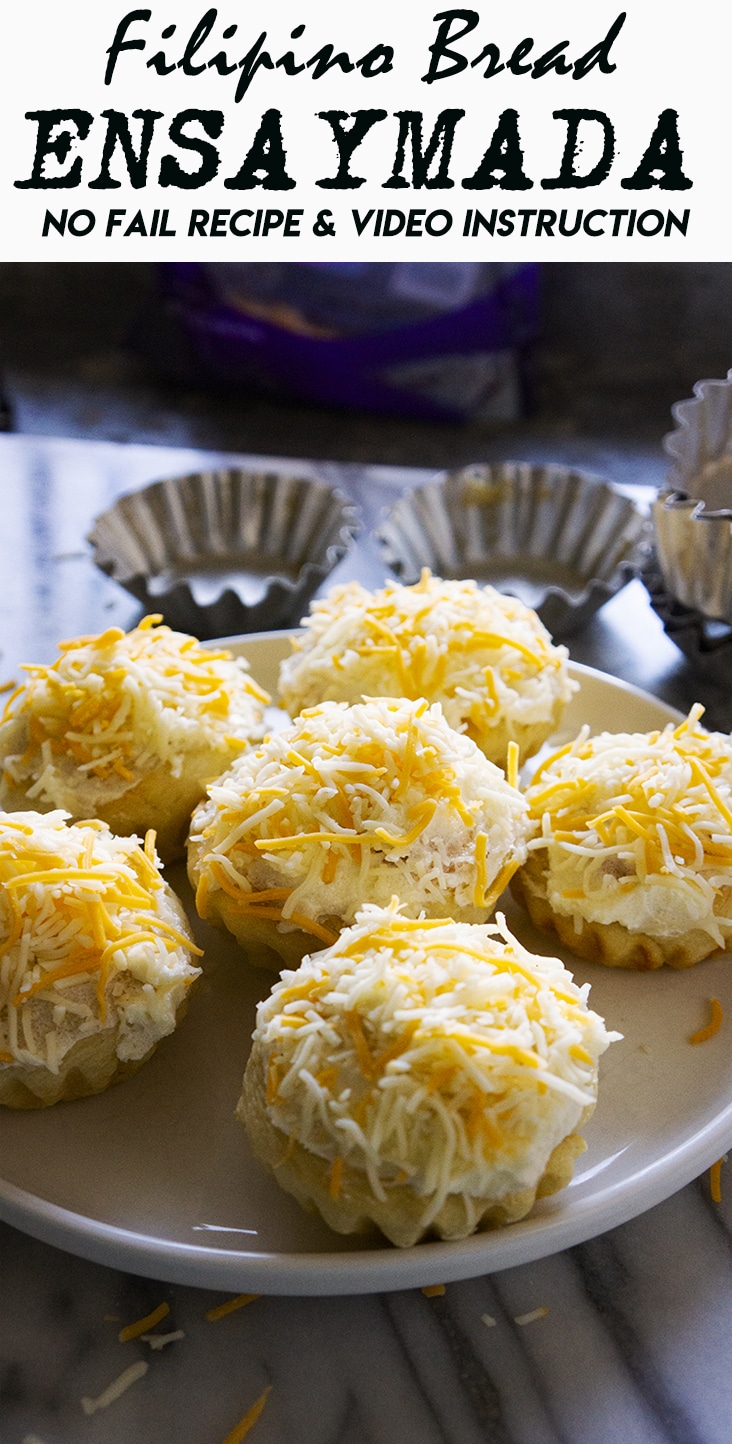 WHAT IS ENSAYMADA?
Ensaymada is a famous bread in the Philippines. The finished bread is topped with butter and sugar. Cheese is also added on top tp balance its sweetness. Paired with coffee, this is a perfect breakfast choice by most Filipinos.
HOW DO YOU MAKE ENSAYMADA
To be honest, it took me awhile to make Ensaymada, because I don't want to ruin how it is supposed to be – fluffy, soft and a sweet type bread. After looking at trying Ensaymadarecipes online, this YT channel yielded the perfect outcome. It is just what I remembered it in terms of its taste and texture, so we are using that recipe.
Making Ensaymada is an easy process, really. There is no need to be intimidated with it. With the step by step video attached here and the clear cut recipe below, there is no doubt that your first try will be a success.
TIPS TO MAKE ENSAYMADA
Use a non expired yeast. You will not believe how many times I used expired yeast and failed in my baking. Check at the back of the packet the expired date, OR if your yeast doesn't bloom – form a bubble within 10-15 minutes, it is expired. So toss that one and get a new one.
Gather all of the ingredients and utensils so it will be less stress for you.
Make sure to flour your working surface, so the dough doesn't stick.
Water roux – you really need to do this steps. I tried  making Ensaymada not doing this step and the bread was hard and tough, so I will be doing this step from now on.
Last, but not the least, follow the Ensaymada recipe here. Read it thrice or more, so that you'll know the next steps.
ENSAYMADA INGREDIENTS:
Flour- the main purpose of the flour is to build structure of the bread.
Yeast- is essential in making bread. This will produce gas and make the dough rise, thus giving the bread its shape and structure.
Water- this is essential to activate the yeast.
Eggs- add structure, color and flavor to the dough and provides flavor.
Sugar- sweetens the bread.
Butter-it adds flavor, moistness of the bread.
WHAT CHEESE YOU CAN USE?
you can use sharp or mild cheddar cheese, Gouda Cheese , Mexican Mix Cheese or even Mozzarella cheese.
FOR MORE EASY & QUICK RECIPES:
Please wwatchthe STEP BY STEP VIDEO here: Ensaymada
Print
ENSAYMADA RECIPE THAT'S NO FAIL AND EASY
This is a soft ,cheesy and pillowy Ensaymada that you can make at home. It has step by step clear instruction and video to guide you. Gone are the days when you have to buy one.
Equipment
Oven

Cupcake Mold in Metal

electric mixer

Stove top for Water Roux

Ladle for mixing

Mixing bowls
Materials
2 1/4

cups

All Purpose flour

1/4

cup

sugar

1

teaspoon

salt

2

teaspoons

Active Dry yeast

1/2

cup

milk

1

large egg

1/4

cup

butter

softened at room temperature
WATER ROUX:
1/4

cup

All Purpose Flour

1/2

cup

water
FOR THE TOPPINGS:
1/2

cup

unsalted butter

softened for easy spreading

sugar

sharp cheddar or mixed Mexican cheese
Instructions
BRUSH PAN AND BOWL WITH MELTED BUTTER AND SET ASIDE.
WATER ROUX:
Mix flour and water in a small saucepan.Turn on heat in low fire  and mix until pasty. Let cool and set aside until use. This is how pasty looks like :

pasty
PROOFING YEAST:
Warm 1/2 cup milk and add the yeast. Set aside for 5- 10 minutes until bubbles from.
MAKING DOUGH:
Mix flour, sugar, salt in a large size bowl and make a well in the middle. Add the proofed yeast and mix using a wooden spoon or spatula. You can use your hand too if you want. just coat it with small amount of oil

Add the egg and mix until dough is incorporated. then add the water roux and try to mix until dough is incorporated .

Add the butter intermittently. Add small amount of the butter, then mix, Add butter then mix, add the rest of the butter until you are able to form a smooth workable dough. Transfer the dough in oil bowl and cover with cloth or plastic wrap and let rise in a warm place for an hour until it double its size.

When ready, punch the dough twice and work on it in a floured surface. Form a circle and divide into 16 pieces. (depending on the size of Ensaymada you want)

Form each piece into a log and coil dough from one end to another end. Transfer coiled dough and put into a prepared pan. let rise for another 30 minutes.

Bake in a pre heated 350 F oven for 15-20 minutes.

Let cool and frost
f FOR THE FROSTING:
Soften butter and spread on top of the bread. sprinkle with cheese first and sugar.

You can also mix the butter and sugar first and frost into the Ensaymada and add the cheese.
Notes
Yes this is a sticky recipe. As you added the butter, knead until you are sure the butter had been incorporated. So, maybe, 4-5 minutes.
BE PATIENT WHEN THE DOUGH IS STICKY. DON'T ADD TOO MUCH FLOUR. JUST COAT HAND WITH OIL.