Soft, fluffy and surprisingly easy to make Ube Pandesal with Cheese. I will show you how to make it, with this easy to understand recipe instructions.
For more easy Filipino recipe try this step by step Pandesal, No knead Bread .
This has been on the rave right now. Whenever you look at any Pinoy instagrammer, you'll see Ube Pandesal "selfie". So now, I am jumping into the bandwagon…
I have posted Pandesal recipe long time ago, and I am so excited to make this because not only does the color looked so pretty, but I am so curious about it. My favorite you tuber made it, so I thought I will use her recipe to make this today. I tell you, the end product of this recipe is a a very delicious bread that it is stay soft and moist for days. Saying that I love this Pandesal recipe is understatement.
SO WHAT ARE  THE INGREDIENTS FOR UBE PANDESAL WITH CHEESE?
Active Dry yeast (note that this is different from Instant Yeast)
warm water
sugar
ube halaya
ube flavoring
flour
bread crumbs
cheddar cheese
TIPS TO MAKE UBE PANDESAL?
As I mentioned before, I had made Pandesal a looooot of times and all the time got great result with it, so I was hoping this will work too. And as you can see on the pictures, it was a great success. So you have to follow the process to a T 🙂
First make sure that you are using active dry yeast. NOT INSTANT YEAST. If you have to mix the yeast with water, that is the active yeast and proof it.
Mix the yeast with warm water. What I do is I boil 2/3 cup of water, remove 1/3 of it, and then replace it with 1/3 of tap water and then mix the yeast, water and sugar. Let it bubble.
Make sure that you have non expired yeast. You can test your yeast by mixing it with water and if doesn't bubble within 5 minutes, it is expired.
Let the dough rise in a warm place.
Use a thicker cheese,or it will melt away during baking. I have cheese singles at home, so stacked 4 of them and divide it in 8 rectangle.
CAN YOU FREEZE PANDESAL?
Yes, you can freeze and refrigerate Pandesal. Just thaw it before eating, and you can microwave it for 45 seconds.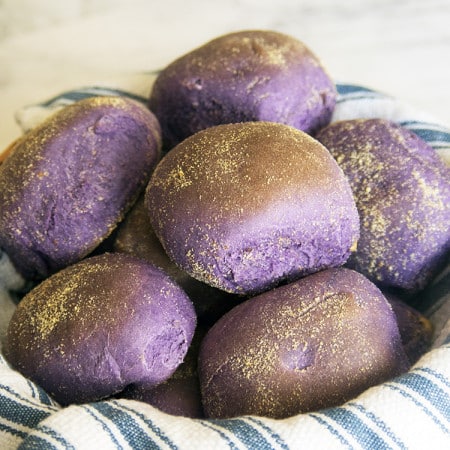 Ube Pandesal Soft, fluffy and surprisingly easy to make
Soft, fluffy and surprisingly easy to make Ube Pandesal. I will show you how to make it, with this easy to understand recipe instructions.
Ingredients
PART 1:
1

packet of active dry yeast 2 1/4 tsp

1

tbsp

sugar

2/3

cup

warm water

1

cup

plain flour
PART 2 INGREDIENTS:
3

cups

All Purpose flour

2/3

cup

milk

1/4

cup

melted butter

1

egg

1/2

tsp

salt

1/2

cup

sugar

1

tbsp

ube flavouring

2 1/2

tablespoons

Ube Halaya

1 1/2

cup

bread crumbs

Cheese I used cheddar cheese
Instructions
Brush deep bowl with oil. Set aside.
PART 1 INSTRUCTION:
Boil 2/3 cup water. Then remove 1/3 of it, and replace it 1/3 cup of cold water.

Add warm water in a small container and add in Active dry yeast and sugar . Mix and let sit for 5 minutes until bubbles form.

When ready, add mixture into the 1 cup flour and let sit for 45 minutes.
PART 2 INSTRUCTIONS:
When yeast mixture is ready, and has doubled.

Warm the milk to 45 seconds and then place the milk, melted butter, sugar, salt,  ube flavor, ube halaya,egg into a stand mixer and add the yeast/flour mixture.

Mix using a wire whisk or the hook until ingredients are incorporated.
Add the 1 and 1/2 cup  flour and mix until incorporated. Add the remaining 1 and 1/2 flour and knead using hook for 10 more minutes.
Transfer dough in a flat surface and form into a ball. Place dough in an oiled deep container and let sit in a warm temperature for 1 hour.

When ready divide the dough into 2 and form a log. Cut dough and weigh 60 grams each and using your palm flatten and fill with the cheese. Make sure that it is sealed. ( it is ok not to weigh the dough, just try to form an almost equal shape pandesal. Put dough into the baking pan.

Cover dough with damp cloth and let sit for another 30 minutes.

Uncover dough and roll into bread crumbs.

Bake Ube Pandesal in a pre heated 350 F oven at 25 - 30 minutes.
Video
Notes
Please watch the video for instructions: Pandesal Ube Recipe
WHAT YEAST TO USE IN THIS PANDESAL RECIPE? Use active dry yeast. Don't use instant yeast
ADDITIONAL TIP: Preheat oven int its lowest setting, for my oven it is 125 F for 2 minutes then turn it off . I use this as the warm place where I can keep rise my dough for two hours. I call it "kinda hot" place for my dough to rise.
For the cheese, I stacked four cheese singles and divide it to 8