If you love your CHOCOLATE CRINKLES COOKIES fudgy, chewy and soft, this will be the recipe you need. This recipe is really easy and the ingredients are easy to find. Also, this recipe  comes out perfect every time.
CHOCOLATE CRINKLES COOKIES
I am not a big fan of sweets because I get migraine each time I have them, but this White Chocolate cookies and chocolate crinkles cookies are worth the risk; so I make them every now and then, to quench my sweet cravings. Each calorie and headache is worth it.
These chocolate crinkles cookies are my family's favorite. The recipe always turn out well. and are one of the easiest holiday cookie you can make. Although  cookie crinkles are  Christmas staples,  we are making this anyway – just because .
You don't need electric mixer to make  them. Your old fashion spatula, spoon or laddle is enough to make and mix the dough.
So many find cookie crinkle complicated to make, but they are not. Just follow these step by step instructions and you'll be sharing or munching this fudgy cookie very soon.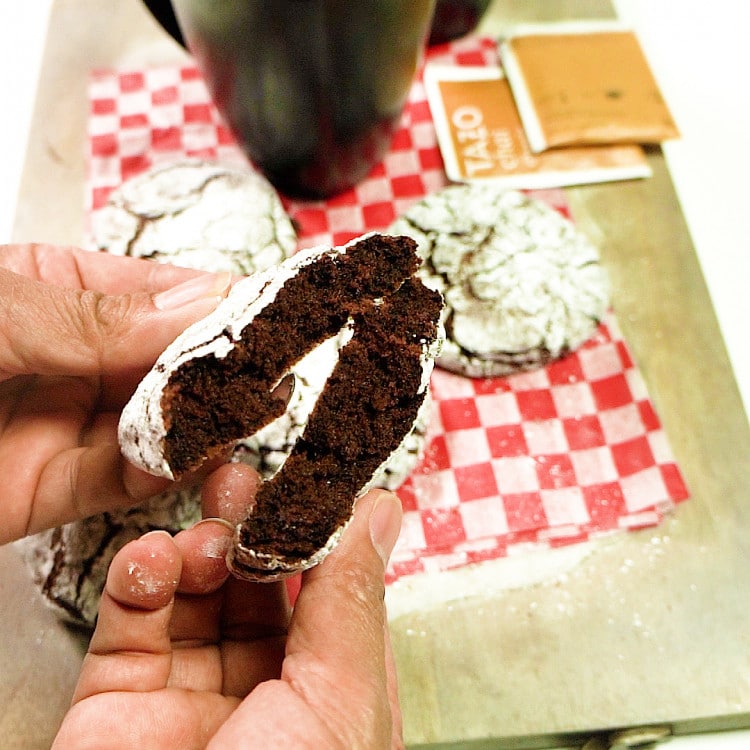 HOW DO YOU MAKE CHOCOLATE CRINKLES
Add in cocoa power, sugar and white sugar in a medium size bowl. Mix using a wire whisk.
Add in oil and mix until combined. This will look like a wet sand.
Add eggs and mix until there are no lumps. Add the vanilla.
Sift flour, baking powder and salt and mix the ingredients together. Make sure that they are well combined. Cover with plastic wrap.
Let the dough sit in the fridge for an hour.
When ready, scoop 3 tablespoon of dough and form into a ball.
Roll the cookie dough into powdered sugar and push the top gently to form a small flat top.

Arrange dough in the cookie sheet making sure that there is 2 inch distance of each cookie.

Bake Chocolate Cookie Crinkles for 12 minutes.

Let cool for 5 minutes and transfer in a cooling rack.
TIPS TO MAKE COOKIE CRINKLES CRINKLE
Making cookie crinkles is very simple. You mix the ingredients and make a dough. But there  are several reasons why it doesn't achieve the crinkle or crackled exterior. Below are some things you can follow to get the crinkled surface.
The dough had melted because you handled it by hand too much.
The dough is liquid-y.
You did not let it chill for an hour in the fridge.
Did you roll it in the powder sugar?
The sugar melted with the cookie.
MY COOKIE IS FLAT AND HARD TROUBLESHOOTING
The outcome of this recipe should be a fudgy and soft cookie. If this cookie comes out hard and flat, here is what went wrong.
Did you chill the dough? Chilling the cookie dough solidifies the fat in it. As the cookie bakes, it take longer for the fat in the cookie to bake. And the longer the fat bake, the less the cookie spread.    This is also the reason why you have to scoop about 3 tablespoons of dough and form it into a ball.
From into a round ball and arrange in a cookie. Make sure you have 2 inch distance to each other.
Pat gently the top of the dough to achieve a hint of flat top.
Place the oven rack in the middle of the oven.
Bake in a 350 F oven. Make sure you pre heat the oven and bake for 12 minutes maximum.
HOW DO YOU STORE THESE COOKIES
Cookie Crinkle store really well frozen or not. This is how to store them.
For the cookie dough into  a ball( don't roll in the powder sugar)  and line them in a flat pan. Place the dough in the freezer to harden. When ready, place in a zip loc. If you are ready to bake the cookies, let it thaw and roll into a powdered sugar and bake.
You can freeze the bake cookies also. Just line them with parchment paper and freeze.
Or, you can put it in a sealed container and let it sit on the counter ready to be eaten.
INGREDIENTS

Unsweetened cocoa powder- I used Hershey's Powder in this recipe
Brown sugar – you can use dark or light brown sugar. I prefer that you use dark brown sugar to enhance the chocolate look
White sugar- this is granulated sugar.
Oil- you can use vegetable oil or canola oil.
Eggs- we will 2 large eggs in this recipe
Vanilla
All-purpose flour – 1 cup of all purpose flour
1 teaspoon baking powder
1/2 teaspoon salt
1/2 cup icing sugar

FOR MORE DESSERT RECIPE:

CAKE RECIPE:

Quick and Easy Strawberry Cake

Follow me on Instagram, Pinterest and Facebook

Chocolate Cookies Crinkles

If you love your CHOCOLATE CRINKLES COOKIES fudgy, chewy and soft, this will be the recipe you need. This recipe is really easy and the ingredients simple to find. Each calorie is worth it.

Print Pin Rate

Equipment

3 tablespoon cookie scoop

cookie pan

bowl

wire whisk

Ingredients

MIX INGREDIENTS

1/2

cup

cocoa powder

1/2

cup

brown sugar (dark or light)

1/2

cup

white granulated sugar

1/4

cup

canola oil

2

large

large eggs

1

teaspoon

 vanilla

1

cup

 all-purpose flour

1

teaspoon

baking powder

1/2

teaspoon

 salt

1/2

cup

icing/powder sugar ( use to roll the dough)

Instructions

Add in cocoa power, sugar and white sugar in a medium size bowl. Mix using a wire whisk.

Add in oil and mix until combined. This will look like a wet sand.

Add eggs and mix until there are no lumps. Add the vanilla.

Sift flour, baking powder and salt and mix the ingredients together. Make sure that they are well combined. Cover with plastic wrap.

Let the dough sit in the fridge for an hour.

PRE HEAT THE OVEN AT 350 F AND PLACE OVEN RACK A THE MIDDLE

When ready, scoop 3 tablespoon of dough and form into a ball.

Roll the cookie dough into powdered sugar and push the top gently to form a small flat top.

Arrange dough in the cookie sheet making sure that there is 2 inch distance of each cookie

Bake Chocolate Cookie Crinkles for 12 minutes.

Let cool for 5 minutes and transfer in a cooling rack.

Video

Notes

This recipe was adapted with change from Savor Easy

Nutrition

Calories:

82

kcal

|

Carbohydrates:

10

g

|

Protein:

1

g

|

Fat:

5

g

|

Saturated Fat:

1

g

|

Trans Fat:

1

g

|

Sodium:

133

mg

|

Potassium:

55

mg

|

Fiber:

1

g

|

Sugar:

8

g

|

Calcium:

24

mg

|

Iron:

1

mg