I have made several versions of Lumpia in the blog with different filling just like this Zucchini Lumpia, Lumpia Shanghai and this Lumpia pork recipe. You can have your pick the next time you cook your Lumpia , but today we will make our Lumpia with Togue or Mung bean sprout filling.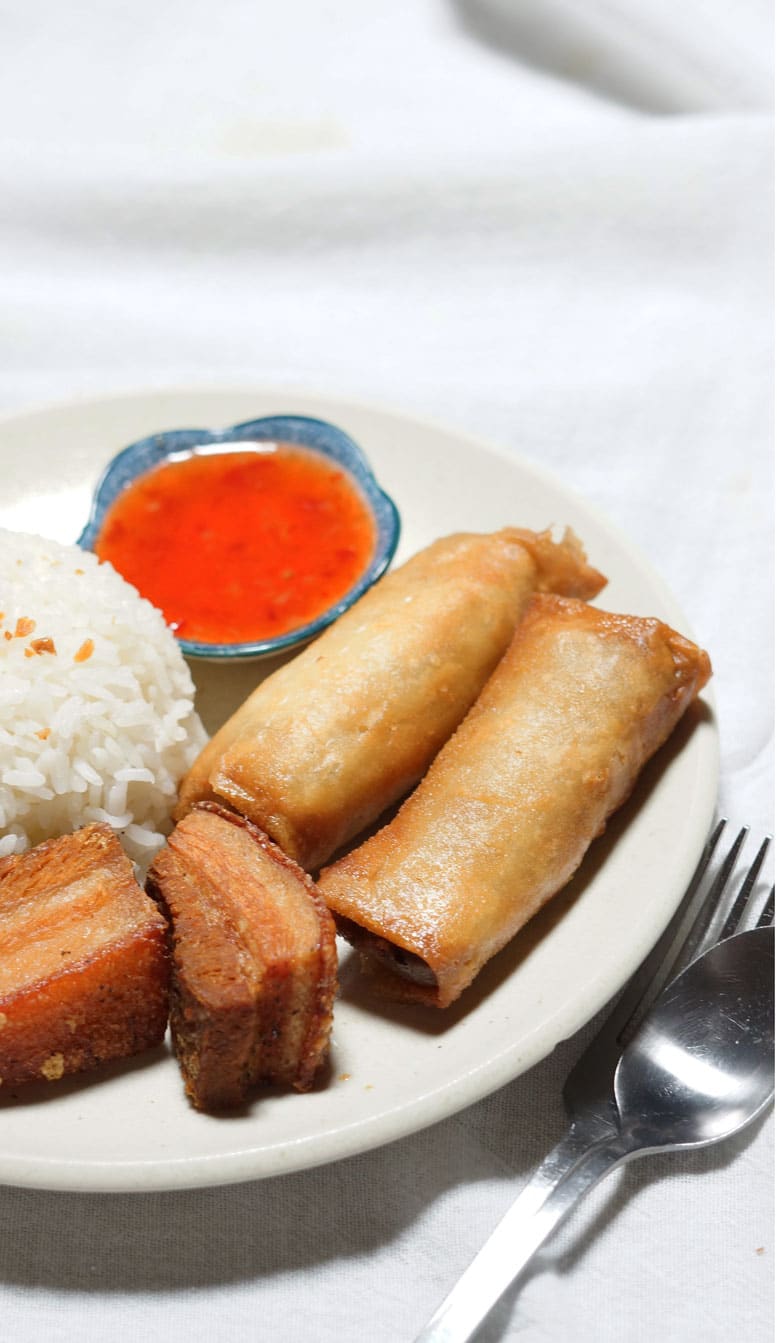 Lumpiang Togue is one of my personal favorite because when I get lazy and cannot be bothered with the Lumpia wrapping inconvenience,  I can just eat the filling right away. Or, when I do wrap it and fry it, the taste is taken up a notch by its crunchiness.
One of my favorite memories with lumpia is eating it with some friends in one of the street corners in Cebu City- just beside my college dormitory. There is this "manong"  ( older vendor) who hangs out in one of the street corners with his Lumpia mobile stall. College students who have been exhausted from a long day of boring school work hangs out there for their Lumpia fill or just congregate around the mobile stall to mess around. This is so common in Cebu City that it has been christened as " Pungko Pungko"  which means SQUAT in English. It got its name because there are no chairs for customers. Customers just get creative to be situated. We will find ourselves sitting on the pavement, on rocks and squatting… whatever and however way to feel comfortable while devouring our Lumpia. My friends and I, will just go hang out in the corner while devouring 3 pieces of Lumpiang Togue and drench  it in spicy vinegar. We'll hold the Lumpia with one hand and take the first bite for an opening and pour the spicy vinegar through the hole like it's a one shot glass and take the remaining lumpia bite. Oil and vinegar will drip through our mouths and after the third Lumpia, order some more of it… It was a fun memory of a simple and easy life.
Making Lumpia Togue starts with sautee'ing the carrots, onion and garlic. Add in the minced chicken, brown it and spiced it with soy sauce.The Lumpia filling is  super simple to make, but the real challenge is wrapping it, so I made a video to show you guys, how to wrap you Lumpiang Togue. If wrapping is so tedious for you, you can just skip that part and eat the Lumpia filling in a bowl. But I recommend that you try wrapping it for practice.
So, enjoy it and it will be nice to see your creation by tagging me on The Skinny Pot Instagram #theskinnypot.
I LOVE THIS LUMPIANG TOGUE BECAUSE:
I can eat the filling by itself.
Crunchy.
Just perfect when eaten with vinegar with garlic.
Bring fun memories from my college years.
When not fried, it is healthy and high in protein.
FOR MORE LUMPIA RECIPE:
Easy and delicious Lumpia Recipe
Lumpiang Togue/Mung Beans Lumpia
Ingredients
1

lb

Ground Chicken

8

oz

Mung Bean Sprouts

1/2

of red bell pepper

chopped

1/2

cup

finely chopped carrots

1

small size onion

chopped ( about a size of pingpong ball)

5

cloves

garlic

chopped

soy sauce

pepper ( season according to your taste)

1

tablespoon

cooking oil

1

pack Lumpia wrapper
Instructions
Heat cooking oil in low heat and saute' garlic and onion.

Add in ground chicken and add soy sauce. Cook chicken until it 's brown.

Add Mung Beans and cook until tender. Add more soy sauce if needed.

When mung beans is soft and it taste on how you prefer it, turn heat and let mixture cool. Drain the extra fluid.

When ready, wrap the filling and heat cooking oil. And fry Mung Bean Lumpia until golden brown.
Notes
After wrapping, you can cook the Mung Bean Lumpia right away or you can line the Mung Bean Lumpia in a pan and freeze them. When Lumpia is hard and firm,put it in a Zip Loc until you are ready to fry. If freezing, you don't have to thaw, just cook it frozen until golden brown.
For the left over wrapper, seal it thoroughly. In my case, I wrap it in cling wrap and let all the air out, and put it a zip loc. and freeze.
Please watch the video for instruction: Lumpiang Togue