How to Make Puto Flan. Use your eggs and not waste it. Make this using the egg yolks and egg whites in this easy recipe.
Hey, guys! Today, I am sharing this Filipino dessert which is a combination of the two favorite Filipino desserts – Leche Flan and Puto Cheese Usually, it is serve on special occasions like Christmas, but in my household, I made it just because…
I got the recipe from Lalaine ,the author of Kawaling Pinoy blog, but I revised the recipe for a bit. I added vanilla, and instead of kalamansi, I used lemon. So, this should, hopefully meet your requirement of how a delicious dessert should be, so I am excited to share it with you, guys.
This Puto Flan is my go to recipe for any party I attend to, because it is very easy to make. It may seem like it is difficult, but once you get the hang of it, it is easy peasy. In fact I made it again  for some friends.  You can make it ahead of time so that you can focus on other things in your household. This recipe will  yieled 22  pieces which I think is enough for a large crowd.
If you have big amount of egg at home, make this recipe: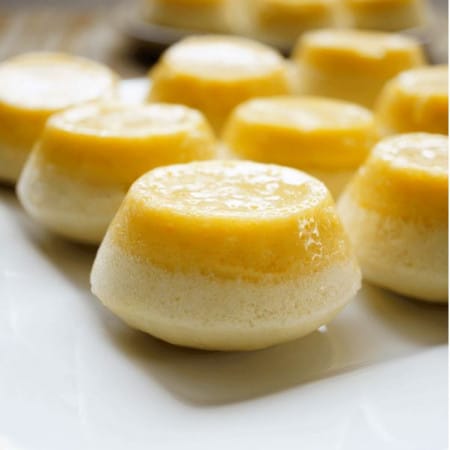 Ingredients
FOR THE FLAN

4

egg yolks

separated

1

teaspoon

vanilla

1

can 14 oz condensed milk

1

teaspoon

lemon juice
FOR THE PUTO
2

cups

flour

⅔

cup

sugar

4½

teaspoons

baking powder

½

teaspoon

salt

1¼

cup

water

4

egg whites
Instructions
Brush puto mold with oil. Set aside.

In a steamer, boil ten cups of water.

In a small bowl, mix all of the flan ingredients and pour 1/8 cup flan mixture in the puto mold. Steam f on high heat or 10- 12 minutes. Remove from the steamer.

in another bowl Mix all of the Puto ingredients. Set aside.

Pour 1/8 cup of the puto mixture on top of the steamed flan mixture and steam again on high heat for 15-19 minutes. Do the same to rest of the flan mixture.

Remove Puto Flan from the mold using by using a sharp knife and serve hot.