How do you make Churro? This  is a simple way to make Churro. You'll be surprised how easy and delicious it is. Your guest will think it's store bought, and you're giving Costco a run for their money.
For more easy Filipino Dessert recipe click this link: 10 Easy Filipino Dessert You Can Make for Noche Buena, Ube Pandesal with Cheese, Best Pandesal Recipe, Filipino Ensaymada recipe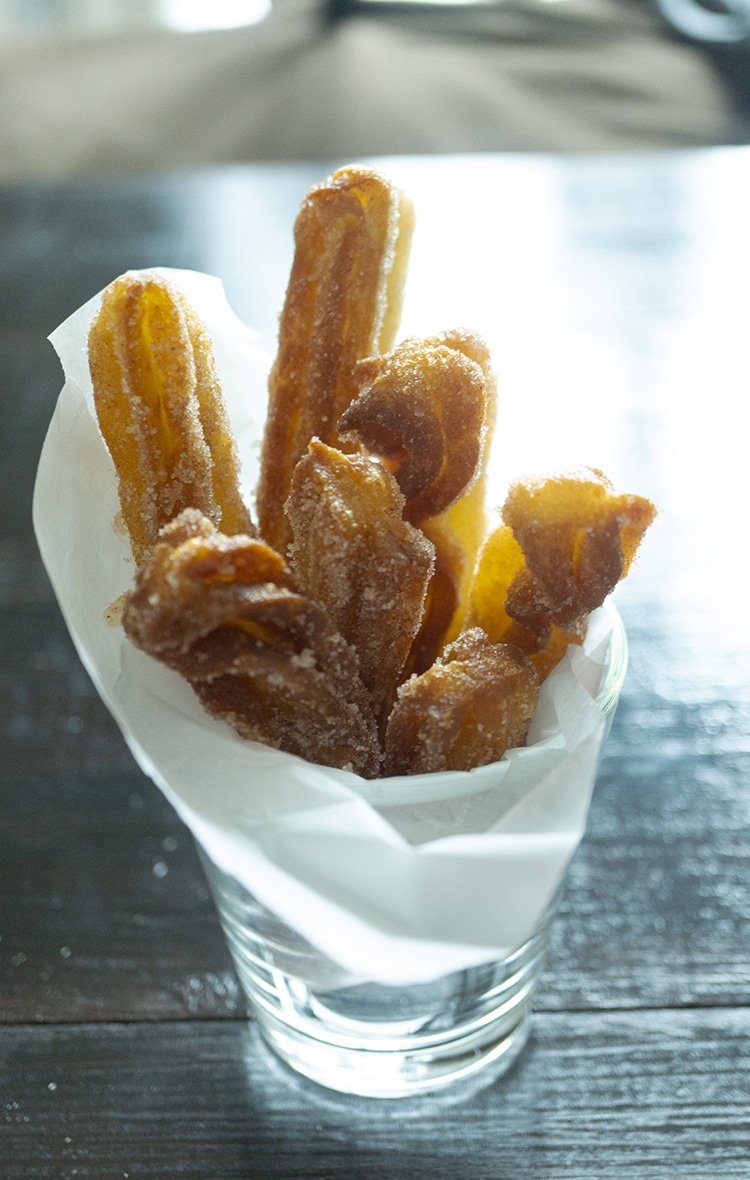 Hello, guys!!! Hear me in this… I think you will be shocked too… I am actually in hysteria and in my peak of utter anxiety…. WHY????
BECAUSE COSTCO IS NOT SELLING CHURRO RIGHT AT THIS MOMENT…. with this corona virus, what else can be worst.
BUT IT IS ALL FOR SAFETY, SO It's all good. I GUESS I JUST HAVE TO MAKE MY OWN CHURRO. But how do you make Churro btw?
I tell yah, it is realllllly easy… ALL YOU NEED IS THIS 8 INGREDIENTS which you probably have in your pantry; so when you are bored as heck with this quarantine, you can make this Churro – ASAP.
So  I was browsing the internet and tried this recipe from Cooking Classy. I was worried /hesitant about the recipe, since I did not see baking powder nor baking soda in it. How will I get a fluffy Churro without those? I PUSHED ON ANYWAY…
AND THIS IS THE RESULT .
A delicious,  fluffy, And really, its taste like Churro. I can't believe that i was my own creation. Since I have been buying Churro all my life (glaring at you, Costco), I am pretty proud of myself. In fact, I was in cloud nine, specially that it was gone in 2 seconds… I was famous in my household for a bit 🙂
And did you watch the video, how easy it is to make???? Now I am passing the torch  to you… But read the tips below first.
There are tips that I have to share with you, though in order to make this Churro successfully.
Make it in small batch. I was so excited to get done with cooking and frying and was very anxious to eat the finish  product – I dump almost the whole batter in the pan. It was a no, no. It will change the temperature of the oil. The end product was soggy Churro. So the next batch.
I cooked about 5 and maintain a temperature to about 250.
And did you watch the video, how easy it is to make???? Now I am passing the torch  to you…
Ingredients
1

cup

water

1/4

cup

unsalted butter

diced into small cubes

1

Tbsp

granulated sugar

1/4

tsp

salt

1

cup

all-purpose flour

scoop and level to measure

1

large egg

1/2

tsp

vanilla extract

Vegetable oil

for frying

For coating

1/2

cup

100g granulated sugar

3/4

tsp

ground cinnamon
Instructions
Heat 2 cups oil in a large size pot and let the temperature reach at 350 F. Maintain this temperature when cooking your Churro

For the coating, mix together cinnamon and sugar in a shallow plate and set aside.

In a medium sized saucepan, melt butter in a low heat and add in water, sugar, and let boil in low heat. Add the flour and mix until you will for into a  smooth batter.

Transfer batter into a mixing bowl, and let it sit for 10 minutes just to cool the batter a bit to not scald the egg. Add the egg and vanilla and mix in medium speed. There will be lumps at first, but eventually the mixture will loosen up and turns smooth. Use a spatula to mix batter to get rid of lumps. You want the batter to be loose so that it will smoothly pipe.

Transfer batter into a piping bag with a 2D tip.

Carefully release/pipe batter into a preheated oil about 3-6 inch long and fry until golden brown

Transfer churro into a paper towel and brown the rest of the batter.

Roll churro into the cinnamon and sugar mixture and this is best serve when HOT.