This post was published October 2015 and has been updated 2 /23/2016
I cook my Beef Afritada in  the Crock Pot so that by the time I come home, I am ready for a delicious meal. I serve this with rice or bread and I am good to go. It is loaded with carrots, potatoes , bell pepper and green peas. In spite of these ingredients, I think it is the green peas that bind all of the ingredients to accentuate its flavor. You can use pork, chicken; but so far, beef is my most favorite for this recipe. 
.
Beef Afritada is a type of Filipino stew . This is one of my favorite growing up .Similar to  the other foods I serve int his blog like Kare-kare ,Siopao, Pancit Molo and Lumpia , this meal is adaptable to any other cuture's palate. If you are American, you will enjoy it for the sauce and for its high protein. If you are Asian, there is a hint of sweetness in it too… if you are Indian, you are gonna love the aroma in this… if you are Filipino like me, I simply think that aside from its good taste, I think preparing Beef Afritada simply brings memory of home.

Beef Afritada was  usually serve by my grandma on Sundays after mass.Normally,  grandma cooked our meal including this Beef afritada on a clay cooking ware, you know those handmade clay pot and handmade clay stove, since that is all she got then. She will gather some firewood and start her own fire. Then she progressed into gas stove but once in a while, she still cooked her Afritada on a clay pot and clay stove saying, "clay pot give a better tastes compare than anything."
For me, however,  I am cooking mine in a crock pot beacuse :
1. I have no time this week to be cooking stove top.
2. Clay stove and clay pot are not available here in the US. We are just too modern now,right? And besides, starting my own fire and finding a location in my house to mound the ashes to set my clay stove on, does not seem practical.
3. I did not see, taste nor smell the difference between cooking on clay and crock pot… SO GRANDMA, IF YOU ARE LOOKING FROM THE HEAVENS, DON'T SQUIRM, I AM USING MY CROCK POT…
The result… the mixture of saltiness and sourness blended with the pepper, green peas and the beef is just like being transported way back when I was sitting in my granny's kitchen while we were waiting the afritada to cook… I CAN FEEL GRANNY BESIDE ME AGAIN with this authentic meal. I miss you, Lola! —  (Filipino word for grandma pronounce low lah)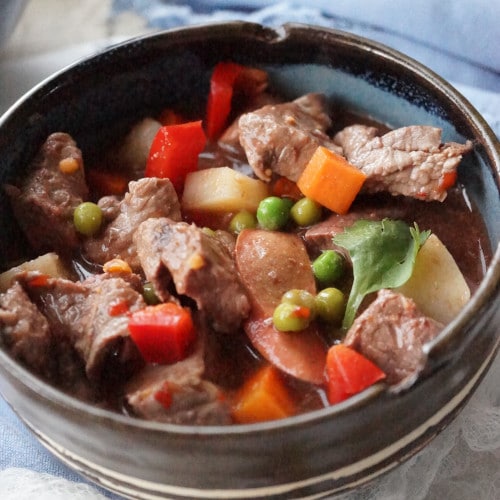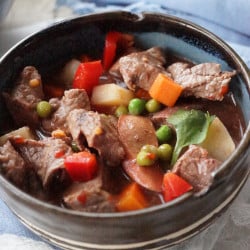 Ingredients
1

lb

Boneless Beef for Stew cut into small bit pieces

5

inches

long carrots

cut into small cubes

2

medium sized potatoes

cut into small sized cubes

1

can 8 oz Hunt's Tomato Sauce

1/2

of Large red Bell Pepper

cut into small cubes

1

cup

frozen green peas

1

can 14.5 oz Low Fat and Low Sodium Chicken Broth or beef broth

4

pieces

small Hot Dogs

preferably Purefoods Brand but the Red Colored ones in your groceries will do

1

tsp

brown sugar to taste and salt
Instructions
Put the beef on the bottom of the crock pot. Add in potatoes, carrots and bell pepper and hot dog. Pour in the beef broth and Crock pot on high for 4 hours and 6 hours on Low Overnight. When ready, add in the tomatoe sauce and mix. Continue cooking for 10-15 minutes and add frozen green peas. Turn off crock pot . Let it sit for few more minutes and serve.