Classic Hot Pandesal (Instant Pot). Skip the oven and use your Instant Pot Duo Crisp instead. It yields as soft and fluffy hot Classic Pandesal as you can enjoy.
Classic Hot Pandesal (Instant Pot)
I have posted Ube Pandesal, Pandan Pandesal, Red Velvet Pandesal and Chocolate Pandesal and this right here is the basic source for them. This is just a simple Basic Pandesal recipe we Filipinos enjoy at home. And since it's hot here in my nook, I made them in my Instant Pot Duo Crisp plus air fryer. You know how I love my little equipment.
Equipment
Baking sheet
Bowl for mixing
Spatula
Standup electric mixer
Instant Pot Duo Crisp plus Air Fryer
Note that I use my Instant Pot Duo Crips appliance. Each Instant Model functions differently, so check your manual.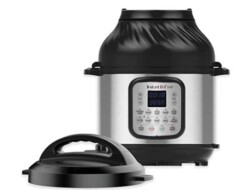 Ingredients for Instant Classic Pandesal
Active dry yeast- make sure that you use the correct one instead of instant dry yeast. When I was testing this recipe using fast-rise yeast, the result was complex and had a lot of holes in it.
Sugar – I used granulated sugar.
Warm water & warm fresh milk
All-purpose flour some tried making this using bread flour, and whole wheat flour.
Butter- you need to use melted butter in this recipe can use unsalted butter and salted butter.
Eggs- at room temperature.
Salt & sugar
Bread crumbs
How do you make it?
Prepare the yeast mixture: Mix the yeast, water, and sugar. Let it bloom and add them to the flour. Cover and set this mixture aside for forty-five minutes.
Prepare the dough Ingredients: Melt the butter, and microwave the milk until warm, add in the egg. Place them in the bowl. Attach the hook attachment. And mix and add in the flour. Mix for seven minutes until the dough is smooth. Transfer to an oiled bowl and let it rise for one hour.
Form the Dough: form the dough into balls and fill them with the cream cheese filling and roll in the bread crumbs.
Rest let the filled dough rest for thirty minutes and cook in the Instant Pot for twelve minutes. Since it's summer, it will be so hot inside if you do use the oven, but if you choose to bake it in the conventional oven, bake it in a preheated 350 F oven for twenty-two minutes.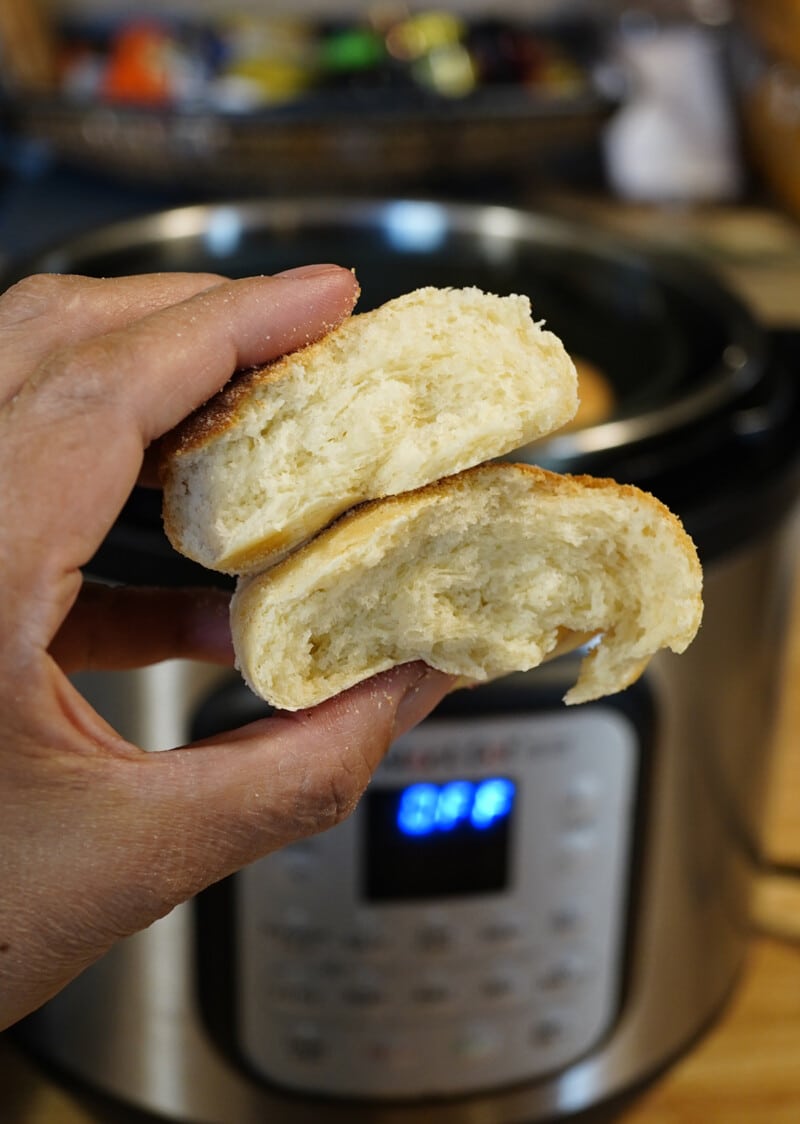 How do I store it
You can store the leftover in a sealed container and refrigerate them.
For more Pandesal Flavor
For more Instant Pot Recipes:
Follow me on Instagram, Pinterest, and Facebook
Equipment
baking sheet

Mixing bowl

spatula

stand up electric mixer

Oven

Instant Pot Duo Plus Air Fryer
Ingredients
1 1/8

cups

all-purpose flour

1/3

cup

milk

1/8

cup

unsalted butter

melted

1

large

egg

beaten

1/4

cup

granulated sugar

1

cup

bread crumbs
Yeast Mixture
2

teaspoon

Active dry yeast

1/2

tbsp

granulated sugar

1/3

cup

warm water

1/2

cup

all-purpose flour
Instructions
Warm the water in the microwave for 20 seconds. Add the active dry yeast and sugar. Mix and let sit for 5 minutes or until bubbles form. Add mixture into the 1/2 cup flour and let it sit for forty-five minutes.

Place the hook attachment in your electric mixer. When the yeast mixture is ready, place flour, sugar, and salt in the small bowl and mix using a wire whisk. Warm the milk for 45 seconds and then place the warm milk, melted butter, egg, yeast mixture, and flour mixture. Mix using the hook attachment until ingredients are incorporated. Mix for seven minutes. Note that this will be a wet dough, so take one tablespoon of flour and rub it in between your hands and sprinkle some flour on the dough for easy transfer.

Sprinkle flour on the working surface and transfer the dough and form into a ball. Place dough in a greased bowl and let sit, covered with cloth, at a warm temperature for 1 hour.

When ready, divide the dough into a round dough and divide it into twelve pieces using the dough cutter. You can also cut dough and weigh 60 grams each. Please see Pandan Pandesal Post in the notes for the guide.
Bake in the Instant Pot Duo Crisp
Place the air fryer rack in the inner pot and arrange the shaped dough. Make sure that there will be a distance between them. Put four to five in there. Putting the dough close to each other results in raw buns. Cover the dough with a damp cloth and let it sit for another thirty minutes. Cover the instant pot with the Air Fryer lid and push the Bake button. Set temperature at 350 F and set the timer for 10-12 minutes.
Bake in the Conventional Oven
Place the shaped dough in the baking sheet. Cover the dough with a damp cloth and let sit for another 30 minutes. Preheat the oven to 350 F and place the bread on a baking sheet and bake for twenty-two minutes.
Notes
Do not add more flour. This recipe yields a wet dough, so you will be tempted to add more dough. Simply rub your hand with flour and sprinkle the dough with one tablespoon of flour to the dough to easily remove it from the bowl.
Check how I prepared the filling Pandan Pandesal ---->here