Instant Pot Pork Chashu. Cooking your Pork Chashu in the Instant Pot makes the cooking time shorter and easy cleanup. No grease in your stove.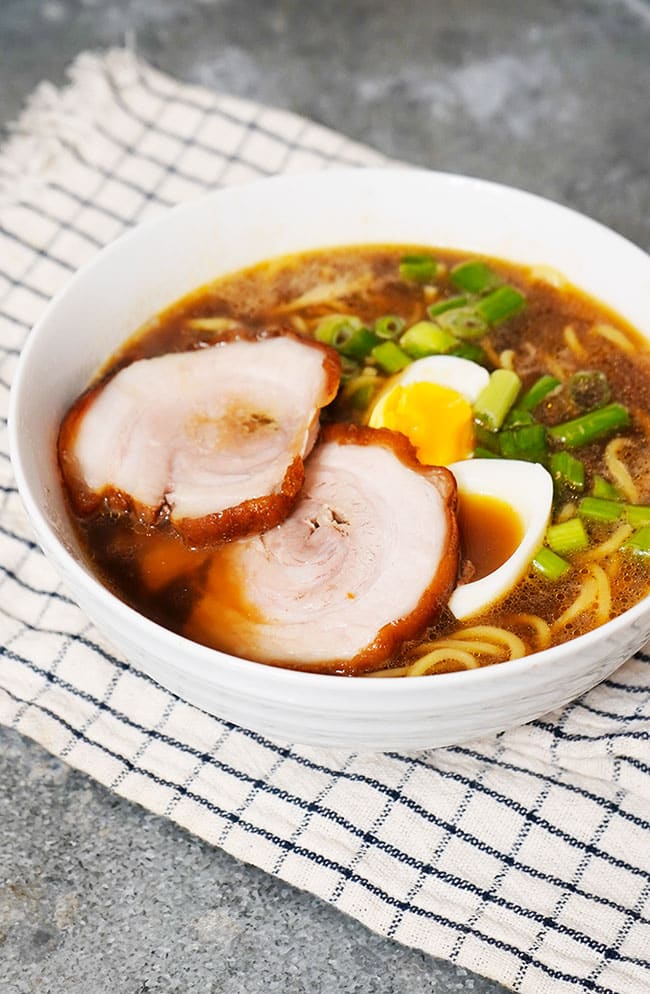 Instant Pot Ramen Pork Chashu
After making Pork Ramen the traditional way,  I thought I can make it quicker and easier, so I made this in my Instant Pot Duo Crisp with Air Fryer Lid. I love that the kitchen is not messy from splattering oil and it's super quick – Instant Pot is really my favorite kitchen equipment nowadays. I have made Gua Bao, Air Fryer Cheese Katsu and so many more. Check out the blog category for the Instant Pot options.
Do you ever wonder how Ramen could be so mouthwatering? Yes! Garnishing has got a lot to do with it and Pork Chashu is one of them. It is simmered pork belly that adds not just flavor but texture and heartiness to the dish.
Pork Chashu is easy to make at home and if you have a pressure cooker, it will be even easier. The key to great Pork Chashu is in the marinade and slow cooking that renders the pork belly melt in your mouth tender. Let's take a look at how to make Pork Chashu. But first, where did this dish come from?
Pork Chashu's Origin
Pork Chashu is a roasted pork dish that is usually served as part of ramen or udon. It is said to have originated from China and made its way to Japan via trade routes where the Japanese gave it their twist.
Pork Chashu is also referred to as Cha Shao in Chinese and it means "braised pork". The dish consists of marinated then slow-cooked pork belly that is often served with buns or over rice.
Now, let's learn how to make Pork Chashu at home.
What cut of meat is Chashu made from?
Pork Chashu, a savory dish with a hint of sweetness, is traditionally made from pork belly which has a good ratio of fat to lean meat and this is what makes it the ideal part. The fat content adds flavor and keeps the pork moist during cooking. If you don't have a pork belly available, you can also use pork loin or pork shoulder. These parts are leaner but they will still work.
Is Pork Chashu healthy?
Pork Chashu is simmered in a soy sauce-based liquid and this adds sodium to the dish. The pork itself is also high in fat. So, if you are watching your salt or fat intake, you may want to moderate your consumption of this dish. However, if you are looking for a dish that is high in protein, then Pork Chashu fits the bill.
Equipment
Kitchen twine
Instant Pot Duo Crips plus Air Fryer
How to make Pork Chashu?
Making Pork Chashu at home is not difficult and all you need is a few simple ingredients and a little bit of time. Here's the list of what you need:
Ingredients for Instant Pot Pork Chashu
2 lbs Pork Belly
1 cup brown sugar
1 1/2 cups Soy Sauce
1  cup mirin
1 1/2 cups water
3 pieces star Anise
2 inches Ginger
1 clove garlic cut in half
5 stems green onion
Instructions:
Place pork on a flat surface and roll tightly. Secure the pork with kitchen twine.
Combine all the marinade ingredients. The first step is to marinate the pork belly. This can be done a day in advance or even hours before cooking. Combine the soy sauce, mirin, and water using a wire whisk. Add in green onion, ginger, garlic, and star anise.

Marinate the pork chashu. Cut the pork belly into pieces that will fit into your cooking vessel. I like to cut mine into 2-inch thick slices. Place the pork belly in the marinade, making sure each piece is well coated. Cover and refrigerate for at least 4 hours or overnight if you can.

Cook the pork chashu. When you are ready to cook the pork belly, remove it from the marinade and discard the liquid. Place the pork belly in a pressure cooker or slow cooker. If using a pressure cooker, cook for 60 minutes. If using a slow cooker, cook on low for 8 hours or on high for 4 hours.

Let cool. Slice and serve. Once the pork is cooked, let it cool slightly before slicing. Serve with steamed rice or ramen noodles.
Few Tips and Tricks!
Use fresh ginger and garlic for the best flavour.

To make cleanup easier, line your pressure cooker or slow cooker with a liner before cooking.

Pork belly can be fatty so you may want to trim some of the fat before cooking.

Save the cooking liquid and use it to flavor your rice or noodles.

Pork Chashu can be frozen and reheated. Simply slice and store in freezer-safe bags. Leftover pork chashu can be stored in the fridge for up to 4 days.
Garnishing your Ramen
Pork Chashu is traditionally garnished with scallions and served with ramen or over steamed rice.
Some people prefer their Ramen soup to be clear while others prefer it to be cloudy. If you want your soup to be clear, you can remove the fat from the surface of the soup before serving. Otherwise, the fat will melt and make the soup cloudy.
Ramen is Life!
There are many ways to enjoy Ramen and it is really up to you how you want to eat it. Some people like to add eggs, vegetables, or even cheese to their soup. But it will be a lot more special if you put Pork Chashu on it together with other traditional toppings like nori (seaweed), scallions, and menma (fermented bamboo shoots).
But don't forget, there are endless possibilities on how to enjoy your Ramen so be creative and put your twist on it. Feel free to experiment and find your favorite way to enjoy this delicious dish!
There you have it! Our guide on how to make Pork Chashu. Try it at home and let us know how it turned out in the comments below. And if you're looking for more Ramen recipes, check out our other blog posts.
For more Asian Inspired Recipes:
For more recipes cooked in the Instant Pot
Instant Pot Pork Chashu
Cooking your Pork Chashu in the Instant Pot makes the cooking time shorter and easy clean up. No grease in your stove.
Print
Pin
Rate
Equipment
1 Instant Pot Duo Crisp Plus Air fryer lid
Ingredients
2

lbs

Pork Belly Slab

1

cup

brown Sugar

1 1/2

cups

Soy Sauce

1 1/2

cups

water

1

cup

mirin

3

pieces

star anise

1

inches

ginger

chopped

1

clove

garlic

cut into half

5

stems

green onion
Instructions
Place pork on a flat surface and roll tightly. Secure the pork with kitchen twine. Place the rolled meat in the instant pot and add in all of the ingredients.

Cover the Instant Pot with the pressure cooker lid. Push the pressure cooker set to HI and set the time at fifteen minutes. After the cooking is done, pressure release and turn the rolled pork to another side. Let the meat sit in the pot until it cools down, Remove the meat from the pot and slice it to garnish the ramen of your choice, or you can freeze it.