Bagoong is a fermented fish which is famous in the Philippines. In my province, we call it Ginamos, and I tell yah, everybody loves it. It is great with any fried food like  Lechon Kawali and Baked Rainbow Trout.  When I was in PI, I sautee'  my Bagoong/Ginamos with lots of onion, garlic and tomatoes , drench them on rice and I am good for the day. This is pretty much a side dish with a fish sauce smell with it. SO, HOW DO YOU MAKE BAGOONG OR GINAMOS (FERMENTED FISH)?
Just hang in there and I will show you how. I also have a video below to guide you and this YT video where I got the inspiration from. But in reality, I learned how to make Bagoong/Ginamos from my mom.
HOW TO MAKE BAGOONG OR GINAMOS (FERMENTED FISH)
So the first step in Making Bagoong or Ginamos is cleaning the fish first with water and then clean it some with sea salt.
Sanitize your container.  I boil the container before I use it. I also make sure that it is totally dry.
IS IT SAFE TO EAT BAGOONG OR GINAMOS?
No,when you are pregnant. Bagoong is very salty, so it may cause your blood pressure to rise and you might retain more water in your body which is not good for you and your baby.
No, if you cannot handle the smell. Bagoong is very pungent in taste it is almost similar to Korean Kimchi. If you don't have a stomach for Kimchi, so don't try to attempt it.
Yes. if you can try or tolerate more salt in your body. For me, I eat Bagoong /Ginamos once in awhile, so I think a little more salt does not hurt your health. I also believe that fermented food are great for your gut as long as you do it in moderation.
For more Filipino Recipe you can try: Pinterest Filipino Recipe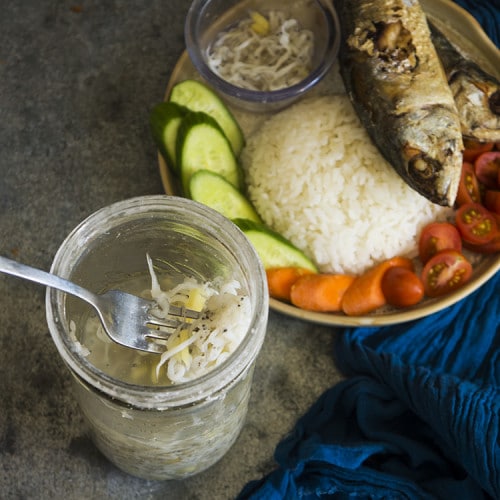 Ingredients
1.5

LBS

Silver FIsh

3/4

cup

sea salt

divided (half for cleaning and other to ferment )

5

cloves

garlic

chopped and divided

30

grams

ginger

finely chopped

3/4

cup

vinegar
Instructions
Wash the silver fish and drain excess water. Place silver fish in a medium sized bowl and add half of the salt to clean the fish. Make sure that the fish is well coated with salt by gently mixing the fish.

Using a strainer,drain excess water and throw water.

In a small bowl, mix the remaining salt and vinegar until dissolve

Add the silver into the mixture and mix the silver fish until it is all coated with salt and vinegar mixture.

Drain the fish in a large container and add in the ginger and half of the garlic . Make sure to keep the liquid mixture as shown on the video.

Transfer fish into a sterilized container and put the remaining garlic on top. Pour the liquid and seal the container.

Store Bagoong in a dark place for 3 weeks