Arroz Valenciana is a Filipino Paella version. It may look similar to Paella, but the ingredients are way different. In the Philippines, this is often serve on Christmas and special occasion, but I make it for my meal prep
It is almost Christmas, so we are making this Arroz Valenciana to serve for our Noche Buena. Although this meal is very common for Christmas, you can serve it to any parties you are planning. I actually brought this to a friend's Halloween party. This is my first time making this and I have to be honest, I was anxious that I'll end up with raw grain, but thankfully, I got it in the first try.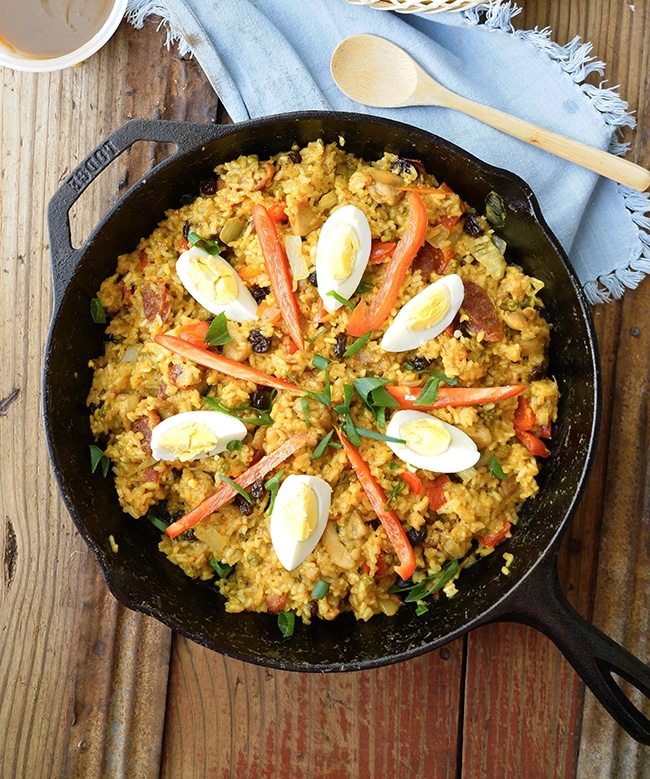 HOW TO MAKE ARROZ VALENCIANA?
Arroz Valenciana  may look difficult to make but it is super easy to make. I explained the instruction thoroughly and I made a video to guide you and the list below will prep you for it.
1st   Preparation. I always say this, but preparing the ingredients ahead of time will make making this dish easy.
2nd You need plain rice and glutinous rice. Yes, you combine the cooked rice and malagkit (glutinuous rice together).
3rd It is ok to make your own chicken stock by using chicken bouillon mixed with water.
4th Tumeric and Paprika make the color of this Arroz Valecina pop. If you skip this 2 ingredients, your end result is a pale looking Arroz Valenciana.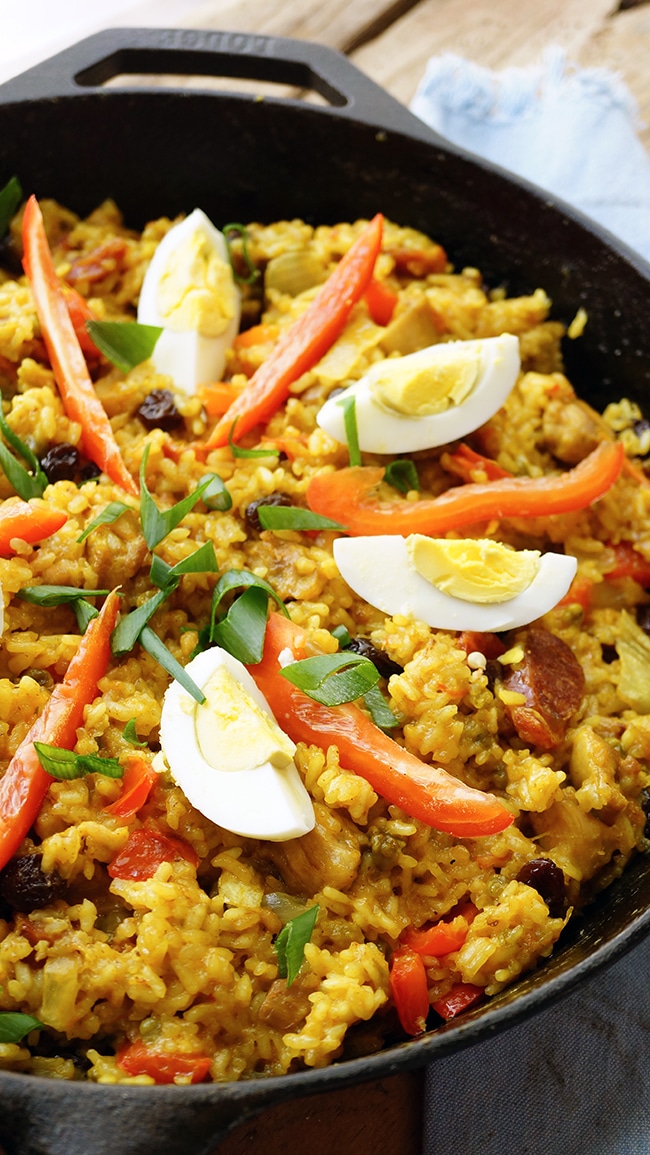 IS  ARROZ VALENCIANA SIMILAR TO PAELLA?
No. They are way different.
1st   In Paella, you are not allowed to mix the rice after certain point.
2nd Paella uses saffron to up that taste, but we use paprika and turmeric on the former.
3rd We use chicken stock and coconut for Arroz Valenciana and for the rice, we mix regular rice with the mal but we only use chicken stock for Paella.
4th We mix regular rice and Glutinuous rice for Arroz Valenciana while we'll use only Paella rice for Paella.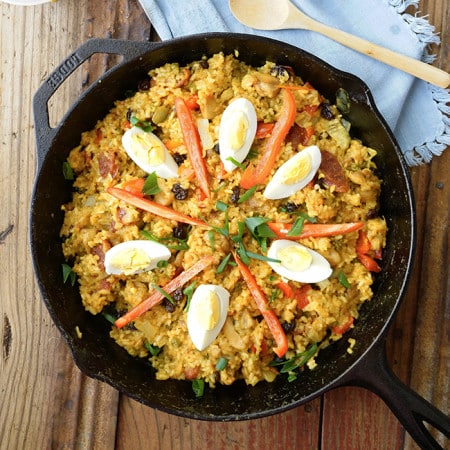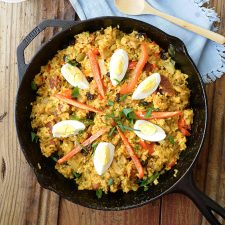 Print
SIMPLE WAY TO COOK ARROZ VALENCIANA
Ingredients
1/2

cup

glutinous rice

1

cup

jasmine rice

1/2

lb

skinless chicken thigh

cut into small bite sized pieces

3

pieces

Chinese sausage and cook until it changes its color. Remove from pan and set aside.

1/2

cup

green peas

1

teaspoon

paprika

1

teaspoon

Tumeric

2

cups

chicken broth

1

cup

coconut milk

1

small sized onion

1

small size tomato

chopped ( size a bit bigger than ping pong ball)

4

cloves

garlic

1/4

of red bell pepper

1/4 cup chopped

1

tablespoon

cooking oil
Instructions
Heat cooking oil in a medium sized deep pan and saute' chicken thigh and cook until until soft. Remove chicken from the pan and set aside.

Cook Chinese sausage and cook until it changes its color. Remove from pan and set aside.

Add cooking oil,if needed, in the same pan and saute' garlic until brown and onion until transparent. Add the tomato and pepper. Season with Paprika and Tumeric and cook until pepper and tomato are soft. Add the rice and mix to coat with the sauce.

Add the chicken broth and coconut milk. Cover and let cook in a low heat until rice is done and liquid evaporated.

Add the chicken, peas and Chinese sausage mix with the rice gently.

KEEP AN EYE OF THE RICE AS IT TENDS TO STICK AT THE BOTTOM. When it does, just scrape it and mix. You 'll find yourself mixing the rice all the time to equally cook the rice grain and that's OK.I found that the liquid here is enough as there is steam from covering the Arroz Valenciana while cooking.