This Mango Cake is a must-try. The cake is very moist, the frosting is fluffy and not too sweet and I must say that there is no butter involved in this Mango Cake. I even told my son, who is a gym fanatic, that he can eat more than one slice as it is not a fattening cake.
When you look at the picture, you may think that this cake is hard to make, but I tell you what, this is really easy. I also made a Mango Cake video to show you how to make this step by step. So I hope you will succeed in making this Mango Cake.
When I was in the Philippines, we have mango all year round and we can get it at a very cheap price too. Philippine mango is considered one of the sweetest mango in the whole world so I am kind of spoiled and picky about my mango. But here in the US, I really have trouble finding sweet mango in our store. And when I do find one, it is $1.50 per piece. What is that??? Too expensive for me. SO I hold off and waited until I can find a cheap and sweet mango to make this cake. Luckily,  Costco got some mangoes, so I grab the opportunity to make this Mango Cake.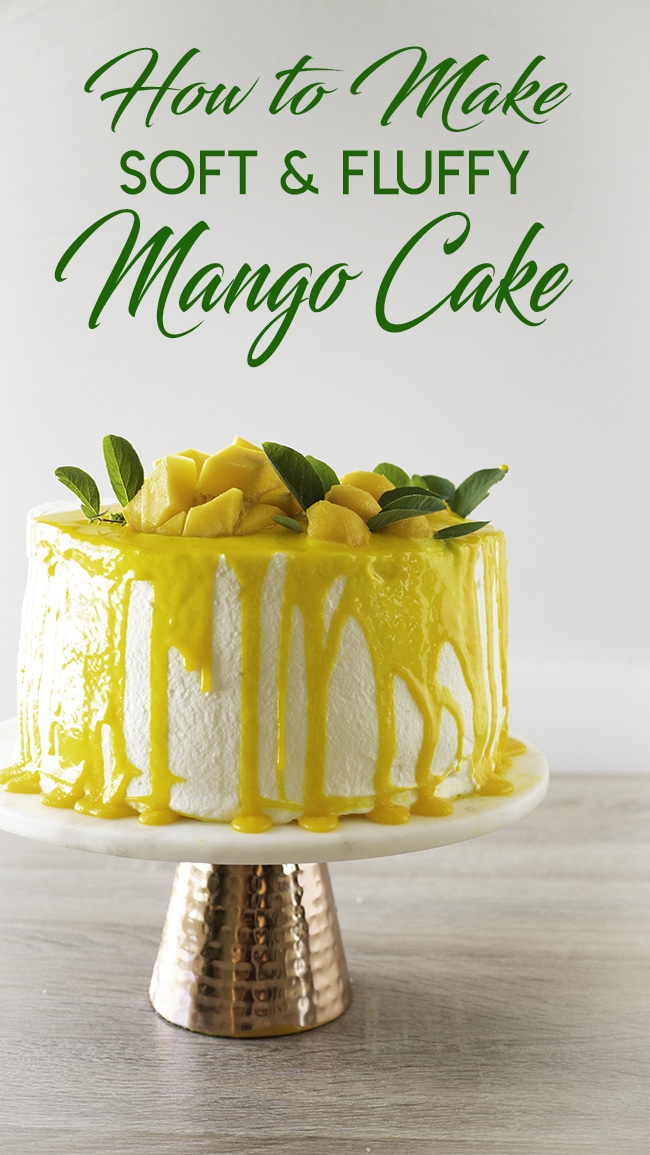 BTW, try this MANGO CREAM CHEESE CAKE also if you got extra time.
MANGO CAKE RECIPE
This Mango Cake is a must try. The cake is very moist, the frosting is fluffy and not too sweet and I must say that there is no butter involve.
Print
Pin
Rate
Ingredients
FOR THE CAKE
8

large egg yolks

6

tablespoons

granulated sugar

pinch

of salt

6

tablespoons

milk

6

tablespoons

cooking oil

4

teaspoons

vanilla

1

cup

plus 6 tablespoons cake flour

8

large egg whites

1/2

cup

granulated sugar

1

teaspoon

cream of tartar

6

RIPE MANGOES
FOR THE WHIP CREAM FROSTING ( DOUBLE OR TRIPLE THIS RECIPE TO FROST THE CAKE, SO YOU NEED ABOUT 1 QUART OR 32 FL OZ OF WHIPPING CREAM )
1

cup

Heavy Whipping Cream

1/4

cup

granulated sugar

1

teaspoon

gelatin

2

TEASPOON

warm WATER
FOR THE DECORATION
5

OZ

Ghirardelli White Chocolate Melting Wafers

1/2

of mango

2

tablespoons

water

divided

1

teaspoon

Knox gelatin
Instructions
Place oven rack on the 4th level of your oven. Every oven is different, so make sure to place your rack in which your cake will not be too close so the top of your cake will not burn.

Grease bottom of an 2 (two) 8 " pan with oil and line it with wax paper. Prepare 2 pans and cover it tin foil. You will use this as stand for the lined pan during baking. Set the pan aside.

Put yolks, sugar, salt,milk vanilla extract in a large bowl, Mix ingredients completely and sift through cake flour. Gently mix until all the ingredients are incorporated. Do not use electric mixer. DO not overmix batter or your cake will be hard.

Preheat oven oven at 305 F.

In a separate bowl, add in the egg whites, sugar and cream of tartar . Mix using an electric mixer and mix until egg stiff peaks. Add mixture to the yolk batter and gently fold together. DO NOT OVERMIX.

When ready, divide batter into 2 prepared 8 inch pan. Place the pans on top of the foil cover pan and put them on the large sheet pan. Pour hot water and bake Mango Cake for 439-43 minutes.

Please see video
FOR THE WHIPPED CREAM FROSTING:
Put mixer bowl and whisk in a freezer for few minutes so that it will be cold, when the mixing bowl is ready , pour in heavy cream and mix on high speed.Add the sugar little by little . And mix until stiff peak. Do not use plastic bowl and do not use grease bowl .

In a small bowl, mix the Knox gelatin and WARM WATER . MIX UNTIL gelatin is dissolved and strain mixture into the frosting.
FOR THE DECORATION:
Puree 1/2 of the mango by adding 1 tablespoon of water. Set aside.

Mix in the gelatin with the remaining water ( make sure to warm the water). MIX THE GELATIN UNTIL DISSOLVE. In the double broiler, melt Ghirardelli White Chocolate Melting Wafers and when ready, add the mango puree and the gelatin. Mix until smooth.

Sift through the mixture with a strainer to remove lumps. And decorate mango. As shown in the video.
Notes
In the picture, you see only 3 layers. The batter that we make will make 4 layers when divided . You can use all of it, and have a four layer cake or, you can just eat the left over cake I freeze mine because I am planning to make something out of it. I wrap the cake with cling wrap and re wrap it with tin foil.
When you do, just make sure that you have enough whipping cream to frost the cake.