Here is a list of 6 Filipino New Year Desserts you can make. They are really simple to make and signify some Filipino beliefs for an abundant New Year ahead. I am not sure if the ancestors were serious about this or made it just for fun, but I made them every New Year as a tradition. I have fun doing it and talking about it to my children, so it's all good. Click on the highlighted blue text. Here they are.
6 Filipino New Year Desserts
Make this Leche Flan and you will have a very sweet life ahead of you. This is simple to make and there is no recipe wasted in this one, because when you make this, you will make this Puto cheese too, which is round and sweet.
3 Ingredient No Bubbles Filipino Leche Flan
Creamy, soft and velvety Leche Flan and No Bubbles
Check out this recipe
PUTO CHEESE WITH EGG WHITES
PUTO CHEESE WITH EGG WHITE IS THE NEXT INSTALLMENT of my3 Ingredient No Bubble Leche Flan . REMember when I separated the egg yolks from the egg whites? So here it is the egg whites in the Puto Cheese form.
Check out this recipe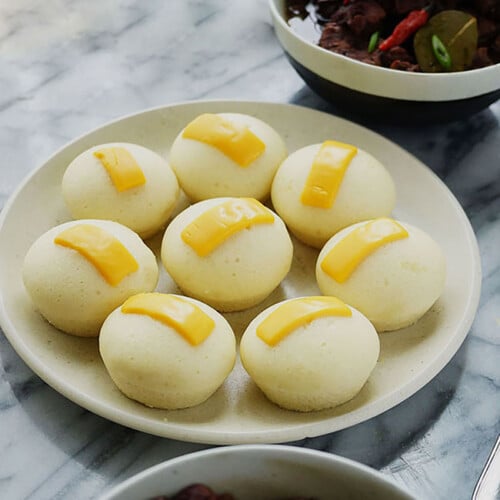 How to Cook Suman that Actually Tastes Like Suman Plus Video
Delicious sticky rice snack from the Philippines which is often serve on Holidays. It is sticky, chewy and wrap in banana leaves.
Check out this recipe
UNITY FOR THE FAMILY
Nothing spells unity and sticky-ness for your family life than these desserts. Make them and you will have unity for this year.
How Do You Make Biko with Latik Topping
Biko is a favorite FIlipino dessert usually serve on special occasion like Christmas and New Year. When Biko is serve for New Year's meal, it has special meaning in it.... IT MEANS UNITY AND "STICK" together as a family and sweet life throughout the year. This dessert is very easy to make and today, I will show you how to do it.
Check out this recipe
PICHI PICHI RECIPE (WITHOUT LYE WATER PURE GRATED CASSAVA 3 INGREDIENTS ROLLED IN GRATED CHEESE)
PICHI PICHI RECIPE (WITHOUT LYE WATER PURE GRATED CASSAVA 3 INGREDIENTS )
Check out this recipe