This Spam Kimchi Fried Rice is a Korean favorite. Add  0ne cup of Kimchi with juice and fried spam make this meal a Korean choice, and mine too.
SPAM KIMCHI FRIED RICE
When I was in college, we had several Korean international students in my neighboring area. They tend to congregate among themselves and do their own thing. They stayed quiet, but their success academically amazed me. They were just brilliant- they always made it to the top of the class each semester. I did not make Korean friends, but my curiosity about Korean culture has continued since then. I regretted that I did not travel to Korea when I lived in the Philippines; since it was a short four-hour flight.
Twenty-five years later, My curiosity and interest in Korea did not fade. I watch Korean shows and Korean food channels, and eat Kimchi Stew, and add Kimchi in my fried rice. I always have Kimchi and Spam at home, so I decided to make it too.
This recipe is simple to make and made only of 5 ingredients. So let's make this.
INGREDIENTS
Spam
onion
Kimchi with juice included
Green onions
Rice
Sesame oil
HOW TO MAKE IT
Slice Spam into cubes and set aside. Chop the green onion and onion into small pieces.
Heat one tablespoon of sesame oil and add Spam. Fry Spam until brown in all sides. Push the Spam on the side of the skillet.
Sautee' the onions until transparent and mix with the Spam.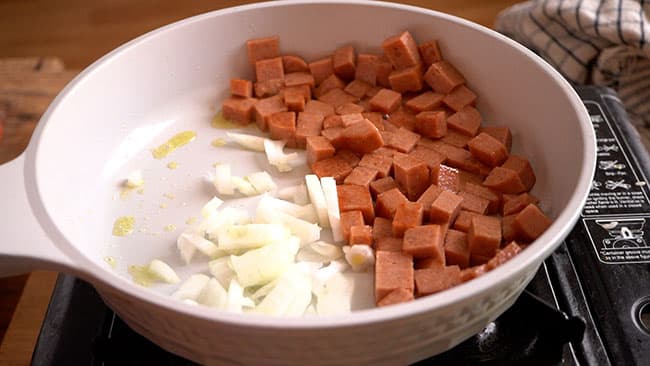 Add 1/2 cup of Kimchi and gently toss.
Add half of the green onion and toss.
Add 2 cups of rice and mix the ingredients until the rice is coated with the Kimchi. Garnish the fried rice with sesame seed and serve immediately.
HOW TO STORE:
If by chance there's leftover, which I doubt, store the fried rice in a sealed container and store in the fridge. You can freeze it too in a ziploc or a sealed container.
Follow me on Instagram, Pinterest and Facebook
FOR MORE RICE RECIPE:
SPAM KIMCHI FRIED RICE

This Spam Kimchi Fried Rice is a Korean favorite. Add  0ne cup of Kimchi with juice and fried spam make this meal a Korean choice

Print Pin Rate

Ingredients

14

oz

Spam

1/4

cup

onion

finely chopped

1/2

cup

Kimchi

include the juice

1/4

cup

green onion

finely chopped, divided

2

cups

rice

cold

1

tablespoon

sesame oil

sesame seed

to garnish

Instructions

Slice Spam into cubes and set aside. Chop the green onion and onion into small pieces.

Heat one tablespoon of sesame oil and add Spam. Fry Spam until brown in all sides. Push the Spam on the side of the skillet.

Sautee' the onions until transparent and mix with the Spam.

Add the Kimchi and gently toss.

Add the green onion and toss. Garnish the fried rice with sesame seed and serve immediately.

Add the rice and mix the ingredients until the rice is coated with the Kimchi.

Garnish with sesame seeds and remaining green onion.

Video