How to make Potstickers. So I have this big addiction. I am addicted about frugality. I want to nail this frugal addiction so bad so that I can save  money for my daughter's college tuition and for my son's future tuition fees. Then there is our retirement… well, I will not talk about it for now because it is stressing me out, so let's find comfort in this Potstickers.
Why am I talking about frugality and Potstickers at the same time? It is because I have made this Potstickers to save money. You see, my kids love Potstickers so much that they can devour 50 pieces in one seating.  For a while, I have been buying it from Costco since it is faster and convenient until I noticed that I am spending so much money for it. So I decided to make my own.
When you go to Costco, the Potstickers cost $14 for 13 pieces; and this  is only a 1 meal  for 4 people. But when you make your own Potstickers however, you will yield 36 pieces at the cost more or less $10.00.
So making this Potstickers, my dear readers will save you some money. And to be honest this is really very easy to make . Just mix all of the ingredients and let you hand get dirty in sealing the wrapper and VOILA, Posticker meal in its finest. You can make a huge batch and freeze them for future meal. Enjoy it, will yah?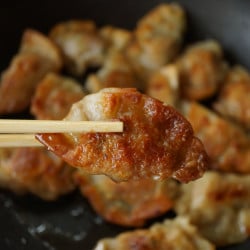 Ingredients
1

pound

ground pork

1

cup

shredded green cabbage

3

ounces

shiitake mushrooms

diced

2

cloves

garlic

pressed

2

green onions

thinly sliced

Start with 1/8 cup soy sauce

salt and pepper to taste

add more if needed

1

tablespoon

freshly grated ginger

2

teaspoons

sesame oil

36

won ton wrappers

Oil for frying
Sauce for serving
2

tablespoons

sesame oil Soy sauce

for serving
Instructions
In a large bowl, combine pork, cabbage, mushrooms, garlic, green onions, , ginger, sesame oil, soy sauce ,salt and pepper.

Mix ingredients thoroughly.

Test the mixture by frying a small amount and season accordingly if needed.

When you think that the mixture is good enough, place the wrapper in a work surface and spoon 1 tablespoon of the pork mixture into the middle of the wrapper.

Using your finger, rub the edges of the wrappers with water.

Fold the wrapper on the edges into half moon shape.

Do the same to the rest of the pork mixture.
TO COOK
Using low heat, heat 1 tablespoon of cooking oil in a small frying pan. When hot, brown 4 pieces of the pot stickers in all side then add 1/4 cup of water to the pan.

Cover the pan until the water dries and the pot sticker is cook.

Cook the pot stickers in batches.