Chicken breast in Hoisin Sauce and Tomato sauce marinade. Healthy, moist and delicious twist of the usual marinade we use.
I am really loving this recipe because:
FIRST:  the left over is still great after the next day
SECOND: the pineapple mixed with the sauce just have this great sour and sweet taste combination
THIRD:  the pepper, its smell and its taste when it is grilled, it has  smoky taste. Yum!
This Chicken BBQ is just best for me to cook right now and all of you who are fatigued from over work. This is FREEZEABLE and the marinade was from the Hoisin Tomato Sauce meatballs I posted awhile back. If you remembered, making that sauce took only 5 minutes.What I did this time was I sliced some chicken breast and put them into a zip loc. I poured the marinade in it and froze it. You know, just waiting for the right time for it to be skewered, cooked and grilled.
AND NOW IS THE TIME …
I am just too tired right now  and grateful at the same time that finally, I am having a day off after working straight for 6 days. I am not sure why I am working this hard, but it dawned on me, I want that expensive pot and I need to work to get it…
When exhaustion gets the best of me, PRE – PREPARED FREEZEABLE MEALS like this one is a savior.  High protein meal with "some" fruit and vegetables in it to give me a boost of energy.  If you see me right now,  I am looking like a zombie from overwork; yet, I need to prepare our meals.  No words can describe how I am beating myself up; regretting  why I had not trained my kids to cook -that time, my reason was justified: I do not want them to get burned or them burning the house; but at  this moment, my thoughts is screaming at me, " They cannot just be the eater of my meals while I am just too exhausted, they need to help me!!!!"  Now, I do not care if they'll burn the house… I really don't care …
FOR MORE QUICK AND EASY RECIPE  YOU CAN MAKE FOR DINNER:
Follow me on Instagram, Pinterest and Facebook
FOR MORE CHEAP AND BUDGET FRIENDLY MEALS: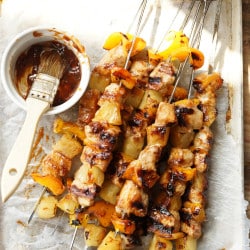 Ingredients
3

pieces

skinless chicken breast, sliced into cubes

3

pieces

bell peppers

1

can Pineapple chunks

HOISIN TOMATO SAUCE

1

can 8 oz tomato sauce

1/2

cup

Hoisin Sauce

salt /pepper/sugar for seasoning (optional - the tomato and Hoisin was good enough taste for the family.
Instructions
Put Chicken Breast in a large bowl and pour in Hoisin Tomaro Sauce Marinade. Cover the bowl and marinate the breast overnight. The next day, slice bell peppers into bit size pieces. and put in a plate and sprinkle with 1/2 teaspoon salt and 1/2 teaspoon pepper. Drain Pineapple chinks and set aside the juice for future use, or just drink it for Vit.C 🙂

Thread pepper first, Chicken Breast then pine apple chunk on metal skewers and grill until chicken are cooked through. When done, dash in more salt and pepper if needed. ENJOY!!!