10 Chicken Recipes (Instant Pot). Cooking chicken in the Instant Pot has become a breeze and I noticed that the chicken is more moist and juicy.
I have had my Instant Pot Duo Crisp for one and a half years and I can say that this kitchen equipment is the love of my life. I love it! I can bake, roast and pressure cook in it plus all the other eight functions that this little baby can do. I need to learn more about how the other functions work.

10 Chicken Recipes (Instant Pot)
I shared 30 Instant Pot Recipe last year and I 've come a long way from that time. I can say that my Instant Pot is the most used kitchen equipment in my house right now! I rarely bake in my oven now – from baking bread in my Instant Pot to baking my favorite Yema cake. I love this little baby. I am considering of buying a stand alone airy fryer now.
Equipment
I want to emphasize each instant pot is different, and some settings may not be on the instant pot you got. In my case, I am using Instant Pot Duo Crisp 11-in-1 Electric Pressure Cooker with Air Fryer Lid, 8 Quart. This Instant pot doesn't have the rice setting, so I am using the pressure cooker setting.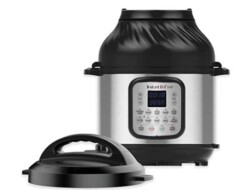 Here are some Chicken Recipes I made in my Instant Pot Duo Crisps plus Air Fryer
Bonus!!
More Recipes You'll Love
If you loved this recipe and want more warm, comforting Filipino food that is just as easy to make try these delicious recipes: